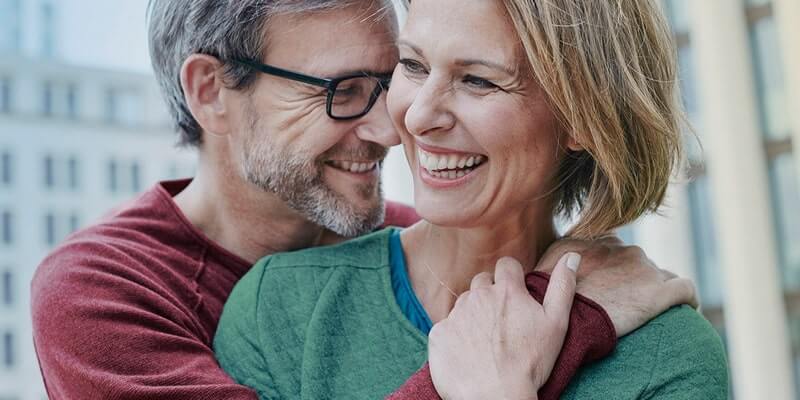 There's nothing that can limit your matchmaking possibilities in senior age except for the limits you create yourself. Dating for seniors has already turned into a sort of industry, where people pay to the owners of online matchmaking resources to help them find partners of their age and in line with their preferences. Dating at a senior age can be an incredible experience, regardless of the result. There's no need to stay within the four walls of your home now.
Essentials about Senior Dating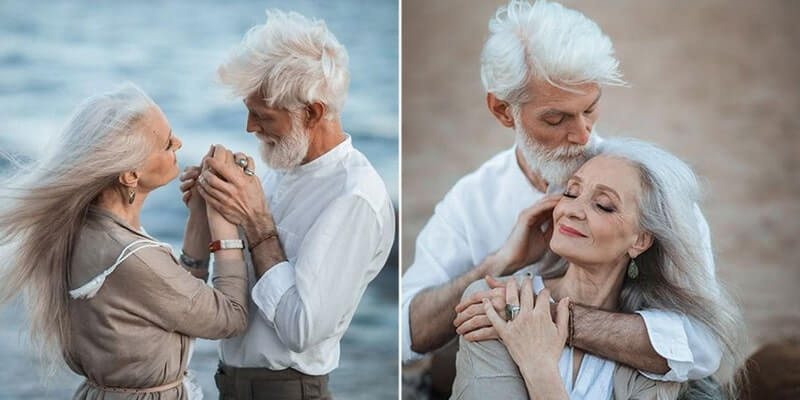 The world is full of senior singles eager to start a new life in a new relationship. It does not mean that they are tired of their kids and grandkids. It means that they finally want to devote their time to themselves. Every single person wants to support and care from a like-minded companion. It's not the same with kids and the other family members. Single seniors want emotional warmth and mutual understanding as much as the youngsters experiencing intense feelings for the first time in their lives.
Before you go online to search for your partner and a potential companion, consider the following:
Dating for the first time makes all people feel awkward regardless of age;
Online communication demands a lot of attention because indecent people are everywhere;
Don't be trusting but always stay straightforward about your intentions;
Stop being ashamed of your looks or of your real photos demonstrating the real you – you'll never find a frank like-minded companion if you don't manage to be honest yourself.
Dating in senior age is not shameful (however, numerous Slavic countries try hard to present it as something corny and vulgar). Dating when you are senior offers a broad range of opportunities:
You'll get a chance to find a partner who has the same interests as you do;
You'll manage to find someone who is ready to share your religious beliefs;
Searching for senior partners online is less daunting and intimidating.
Besides, online dating is safe if you are a sensible and careful person on the alert.
Pros & Cons of Senior Dating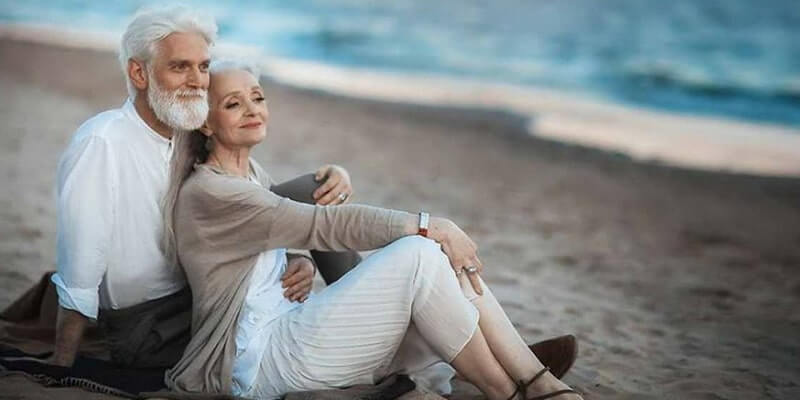 | Senior Dating PROs | Senior Dating CONs |
| --- | --- |
| It's a whole range of new experiences as soon as you have to interact with many people from different cultures and countries. | The internet is full of fraudsters, and you'll have to be careful not to fall victim to a charming man or a woman who can easily shake you for some cash. |
| It's a rapid and powerful process controlled by the mediators of the websites and improved by means of unique algorithms helping you to find a perfect partner in accordance with your expectations. | You'll have to do some research before you register on one of the websites and devote much time to the questionnaires and personal profiles to make them appealing enough to the other users. Senior dating is like homework. |
| It's a chance to travel and see the world hand in hand with someone who will support you and share your views on life hand-in-hand. | You'll have to find the courage to make this leap of faith and leave your comfort zone. |
It doesn't matter what you think will be. Your suspicions nurtured by superstitions and misleading personal thoughts will spoil everything in the bud. Take a deep breath and decide whether you are ready to accept a new person in your life or not. If yes, then try hard not to let your lack of confidence affect your future.
Navigating Your First Senior Dating: Basic Tips
Your first date at a senior age is not a catastrophe. Try to recollect the memories of the past and remember your first date when you were young. Wasn't it a bit nervous? Weren't you excited and insecure? The thing is that the first dates are always challenging. You have to consider many things, starting with your hairstyle and finishing with the way you speak. Your palms sweat, you start blushing, look away more often than you've planned, and feel like everything's falling apart.
Dating is a challenge at any age, and you have no right to think that you're the only one suffering from being insecure when meeting new people. Your first date will run smoothly if you stick to the following rules:
Arrange a date in a public place. It's safer and more comfortable. Let it be a local coffee shop, a pub, or a café.
Don't choose a theatre or a cinema as a place for your first date. It should be a quiet place that will help you communicate. Aim to find out more about a person you meet.
Make sure you're comfortable in your clothing. Don't buy anything new to wear for a date because it might only add uncertainty in your movements and behavior.
Don't discuss financial matters and pay attention, whether your interlocutor is interested in your material well-being. It's a red flag.
Short Guide to Senior Dating in 2021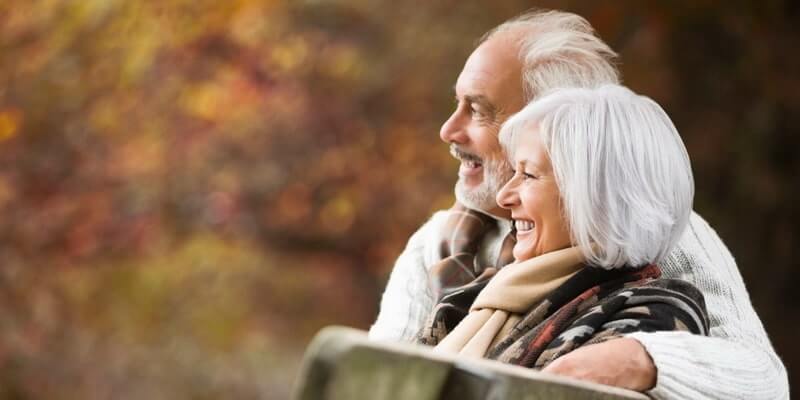 All in all, dating in the senior age as advantages. You're not 20 anymore, and you have a sufficient amount of experience to differentiate between people and their intentions. You have more common sense, and you already know what you want in a relationship. It's not that you're necessarily looking for love and passion. You might be interested in a good friend able to listen and understand what you want to say. Anyway, it's time to have a more profound look at senior dating.
If you live in a big city, meeting new people is not much of a trouble. Just become a member of any local social community. Participate in volunteering, join a local sports club, or sign up for dancing classes. This way you'll get a chance to interact with a lot of people of different ages and with the same interests as yours.
If you're a resident of a remote place, going online is your best choice. You'll have to scan the internet for reputable dating platforms, study the reviews of the satisfied users, and learn about the websites destined to find matches for particular social and religious social groups.
A reputable online dating platform will give you a chance to test the system after the registration so that you could try the basic options. However, you'll have to pay for monthly or yearly subscriptions to get access to all functional instruments on the website.
You'll also have to devote a lot of time to your profile. Aim to pick out relevant pictures of yourself.
The best dating websites urge their users to fill in long questionnaires and deal with personality tests. They need it to help people find each other basing on their interests, religious preferences, and professional aspirations.
If everything is done correctly and with a decent amount of attention, you'll become a user of a powerful dating platform that will help you deal with your single life once and for all. Even if you don't manage to find love, you'll get a chance to interact with a lot of people from all corners of the world, which is a great experience regardless of the result.
Senior Dating & Traveling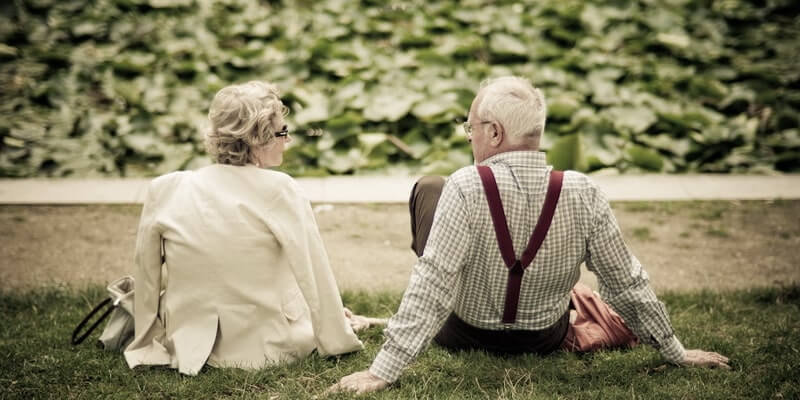 There's no need to rush into a relationship just because a person you fancy lives not far from you. You should be reasonable and thoughtful when it comes to new acquaintances of your age. Going online finally gives you a chance to get off the ground and move anywhere else. Our lives are too short, unpredictable, and vibrant to stay in the shells of our own fears and delusions. Senior dating will bring a breath of fresh air into your stale life.
Travel wherever you want, and don't forget about the basic safety rules. Keep in mind that gold-diggers are everywhere. They are indecent people hunting for your money and financial well-being. Stay away from anyone who asks you for money.
Be prepared for unpredictable experiences with people of other cultures and religious confessions. Learn to be polite and open-minded. Accepting new traditions and lifestyles will be very fulfilling from the psychological and emotional points of view.
Your age does not prevent you from doing something you've always been dreaming of. No one has the right to say that you're doing something wrong. You've been through many years of relationship, and it's the right time for something uncommon and unpredictable, including mistakes and funny, confusing situations.
Senior Dating & Intimacy
It's evident that intimacy is essential for the majority of single people. It's natural for us. We all want to share physical energy with people who find us appealing.
Discussing matters of intimacy is more comfortable online. This remoteness is very profitable for shy people unable to discuss sex openly.
Even if your age and health conditions prevent you from having kids, you shouldn't forget about the necessary safety precautions. Anyone can have sexually transmitted diseases, regardless of age.
Be straightforward about your needs and mention it right away, not pressing your potential partner, but simply to indicate the boundaries. Your prospective partner might have different views on life, and intimacy should be discussed before you enter a relationship, so that both of you feel comfortable in the future.
Senior Dating Online in 2021: FAQs
Before we immerse ourselves into the peculiarities and unpredictable situations of senior dating, let's list the most popular questions of the users asked via Google.
Do online dating platforms work for seniors?
Luckily, there are many legitimate platforms helping single seniors find each other online. Regardless of what made a person lonely – a partner's passing away, religious beliefs, or natural shyness – the variety of online dating websites for older adults is huge, and they can be trusted.
What are the most popular dating websites for older adults?
Match, Elite Singles, and Silver Singles are among the most renowned websites. They offer a variety of partner choices basing on your preferences and interests.
What is AARP, and can it help an older adult build a relationship with a like-minded companion?
This establishment is also known as the American Association of Retired Persons. They aim to help older adults lead the lives they've always wanted. You can easily become a member of this organization if you're over 50. Not long ago, AARP started collaborating with HowAboutWe.com. The website has been active for a couple of years, and now it is ready to help the elderly singles find each other. Just become a member of AARP and enjoy the following member benefits:
Budget travel center;
Health and wellness services;
Entertainment;
Shopping;
Affordable insurance plans;
Financial support;
Services for your safe household;
Professional opportunities;
Advocacy;
Information services;
The aid of the community.
The list of AARP services, in addition to dating over 50, includes many issues. The full list of benefits and cost-effective services for the senior people is available on the official website.
What is the best way for the seniors to date after an online conversation?
A regular coffee date or a visit to one of the local pubs or restaurants for a glass of wine will be a nice idea because it will help you find out about each other in a peaceful atmosphere without too much noise. Besides, a coffee house is a public place, which will leave you with a feeling of safety.
Trusting instincts is crucial. Your intuition is getting keener with age, and you can fully trust it. If you feel like something's going wrong, you're most probably right.
Watching out for the red flags is highly important. A person who cannot control his emotions and unwilling to accept your point of view in a regular conversation is not the best partner for the rest of your life. The representatives of the elderly generation already understand that people who are different will never be able to compensate for each other's flaws.
Searching for conversation starters is a must. Especially if you haven't been through romance for a long time, scan the net for the most appropriate topics you can start on your first date.
Keeping your personal details to yourself will help you avoid additional problems if your partner turns out to be a psycho unable to control himself. Obsessed people with psychological and emotional problems exist at any age – you should be careful and suspicious not to create problems for your family and you.
Are there any recommendations on how much time older adults should spend with each other before getting married?
There are entirely no limits to stick to when it comes to romance. Nevertheless, a senior single with experience should be reasonable. It doesn't matter how much time will pass before you get married if you manage to find out the satisfying info about the following:
What will be the foundation of your potential relationship?
What issues and interests will build the common ground for your possible match?
Are you ready to get acquainted with your family members and friends?
Do you find it acceptable to invest time in your partner while sacrificing your habitual everyday pleasures and activities?
If both of you accept your relationship, will you be ready to negotiate troublesome situations and lead thoughtful conversations about things you like or don't like?
Senior Dating Red Flags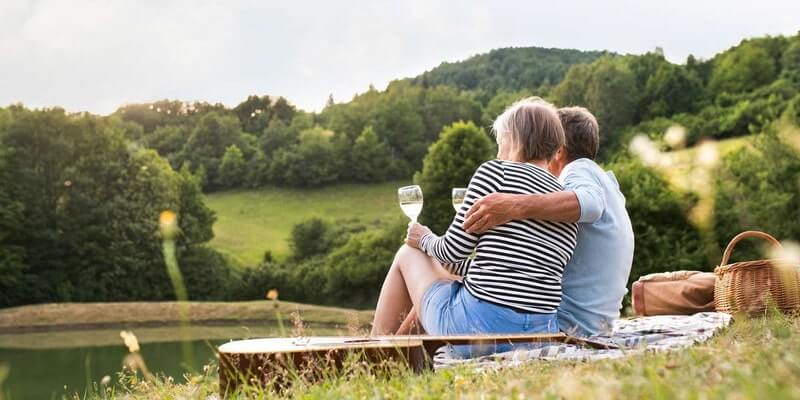 Dating senior singles means dealing with formed personalities with well-established values, professional relationships, and friendships. Besides, most representatives of the older generation have innumerable blinkers concerning religion, social values, family values, and numerous other issues.
Pay attention to the following red flags if it's the first time you're trying to get in a relationship in the elderly age:
Insufficient information. If your interlocutor is unwilling to say what he does in life and shares no general information about the place of residence, it's strange. Of course, no one has to share too many personal details, but if one conceals the information about his family and children and tells his profession is too serious to discuss, it's a red flag. If a person's profession is connected with governmental secrecy, no one will allow him to register on the internet with the use of his real pictures and videos.
Excessive information. Your interlocutor does not give you short answers to simple questions. For example, you simply ask whether he was married or not, and he starts to excuse himself for the unsuccessful relationships of the past instead of just saying, 'yes, I was.'
Hard to reach. Of course, your partner is not obliged to be available 24/7. Nevertheless, if he seems to be unreachable most of the time, his interest in dating is questionable.
Contradictions in speech. It's one of the most straightforward ways to find out whether your possible partner a liar or not. Imagine you had invited him to the party and he didn't come saying that he had a splitting headache. The next time he said he didn't have time to go because of too much work. It's just a little lie, but it's also the first indicator of a person unable to say what he thinks, which as a significant drawback.
Too much secrecy. It's almost the same as the first point. If your interlocutor answers the questions in return to your questions, it shows that he's trying to evade something.
Grand promises. He makes a promise and, regardless of its seriousness, he postpones his actions and tries hard to ignore the subject. Fake promises and grandiose plans for the future cannot be arranged on the spot. You'll have to spend several times communicating to find out what your future will be like if you decide to stay together as a couple. It's the same with men who promise to divorce with an ex as soon as it is possible. Regardless of how many times you start this conversation, the situation does not change, though the divorce process, if not that hard. There's something holding a person back.
Too much fuss and pushing. You've arranged a date, but he cancels it because of his personal circumstances. The next day she urges you to drop everything and see him immediately. He insists on sex, though you are not ready yet. He leads conversations about moving to your place and living together much earlier than you could imagine.
Dirty talks. If someone is interested in how your lingerie looks on you or makes comments on how sexy and appealing you are, it can either be a pervert or a scammer. The first one can insult and emotionally suppress you (don't forget about sexual harassment). The second one can affect your financial stability and get in touch with your friends and colleagues to add you more trouble and benefit from it.
Trusting your instincts is crucial because remote communication may result in circumstances that aren't what they seem to be. If you're an attractive senior adult, living independently from your children, and having enough money to pay for your needs, you are to be happy to protect not only yourself but your nearest and dearest as well.
Senior Dating: Sex Over 70
It's sad to accept, but senior singles dating are often blamed by the society for their willingness to have a full-life romantic relationship, including not only thoughtful conversations and weekend gardening together, but sex as well.
Yes, people of all ages can get pleasure from penetrative sexual intercourse and orgasm as well. Of course, everything depends on the health, but a relatively healthy personality is not limited to anything when it comes to intimacy.
Any clever representative of any generation should finally deal with the derogatory labels and let single people of all ages do whatever they want in their lives. Besides, when you're 70, you don't have much time to waste on confrontations with someone's opinions.
Sex is not one of the most popular topics to be discussed by the older generation. Nevertheless, some of the representatives of people over 70 have different opinions. Here are some of them:
There are elderly seniors openly willing to have sex for as long as their health permits. They are sure that regular sex helps you feel alive. It fills you with energy regardless of the time of the day. If you have a sickness that does not prevent you from having sex and enjoying orgasms, enjoy it.
Some elderly adults have nothing against having sex in a different way. People of this age often suffer from heart and blood pressure conditions, which makes them stick to certain diets and have prolonged medication courses. It often affects a man's ability to sustain an erection. Using sex toys is normal for an elderly couple expressing respect and mutual affection. No one in a relationship should be deprived of a natural way of getting pleasure from intimacy.
Sexuality patterns do change over time, but they do not disappear if people are still attached to each other. When you live with your kids and grandkids at home, you limit yourself to expressing sexuality. However, showing that you're still in love is normal. As soon as the kids get on holiday or leave their birthplace for a new place of residence, nothing can prevent you from having sex for as long and as many times as you might want.
Many singles over 70 regard sex as a new form of sport. If they had to give up the habitual sports activities, which was caused by health problems, sex is a perfect replacement.
Senior Dating: Should Older Adults Get Married?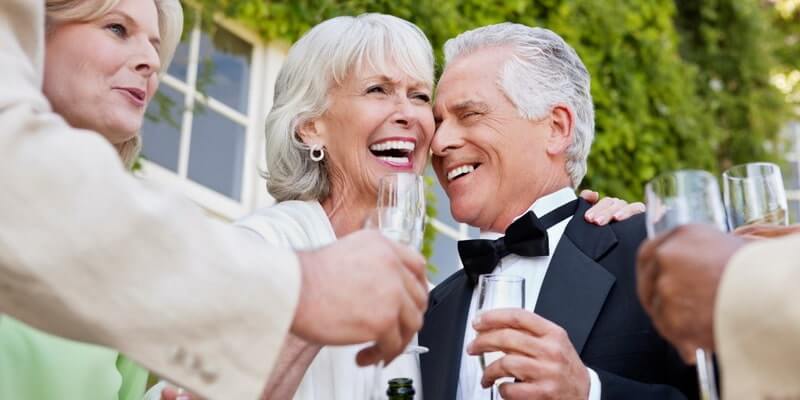 It's one of the most common questions about those interested in senior dating online. Let's have a look at it from the other side of the issue and find out why most people over 60 DON'T get married.
Lack of belief in fairy-tales. Most representatives of the younger generation get married just for the sake of the beautiful pictures and a memorable ceremony at the church. When you're over 60, you stop paying attention to things like these because the crucial things that you appreciate are companionship, respect, and mutuality. You don't have to sign anything or get anywhere so that someone could make you officially connected. That's an emotional aspect. Let's pass on to a more practical thing.
Social security benefits. If one of the elderly partners is divorced and gets social security benefits, a marriage can seriously affect the amount of money he gets monthly. A regular marriage can cause numerous financial problems if a person gets financial benefits (survivor's benefits, for example).
Inheritance. Remarrying can affect the amount of money that children can inherit from their single parents. Of course, you can protect your fortune by means of governmental, lawful measures. These measures might sound unpleasant, but they are vital.
The opinion of the kids. Numerous elderly singles prefer not to remarry not to hurt their adult children. There are cases when adult children cannot bear the ones their elderly parents date. To avoid unwanted aggression, as well as the excessive friction in communication, the officially married life is taken off the table.
Health. Getting married in the elderly age may result in trouble with the Medicate healthcare program support. The additional income of the partner may prevent the other partner from getting benefits and financial support from the government when it comes to healthcare issues. Of course, in many cases, elderly adults choose to stay together until the rest of their lives, taking care of each other. Nevertheless, we all know that the pharmaceutical companies in the country are not controlled by the government, which makes the majority of vital drugs and medication courses too expensive for US residents to afford.
Well, should the elderly singles get married?
It all depends on your views on life and financial position. Marriage at this age means acceptance of each other's flaws and dealing with the families. If your children have nothing against this act, and if your financial position is stable enough to pay for your needs, including healthcare, marriage will be a magical present for you both. The only essential thing that should be part of your interaction is trust.
Senior Dating in 2021, Marriage & Financial Issues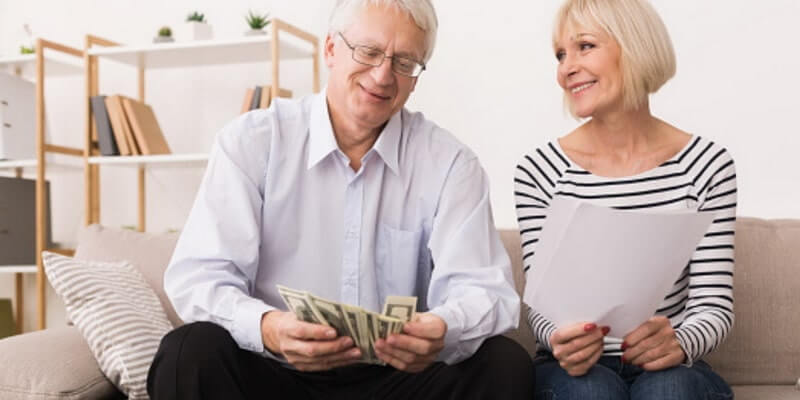 Senior dating online is an effortless way of finding people for those who:
Feel too shy to start conversations with strangers on the public;
Live too far away from big cities where they can find new acquaintances;
Belong to a specific religious community and now can scan the internet for the like-minded partners and friends from all corners of the world;
Don't have too much time to spend on multiple conversations with the potential partners offered by a regular brick-and-mortar dating agency.
Single senior dating is not significantly different from the other ages. It always implies the following difficulties:
Social and religious restrictions;
Emotional blinkers;
Misconceptions;
The opinion of the family members;
The impact of friends and co-workers.
These are the general problems concerning singles dating regardless of age, gender, religion, or social position.
But what if you're an older adult willing to get married at the senior age? If you know everything about your potential partner, understanding that no risks are implied, consider the following:
Financial problems and solutions concerning mutual budget;
Children;
Assets & real estate property;
Housing and household problems;
Retirement issues...
Even if you feel mutually attached to each other, feeling that nothing can destroy your trust and eliminate your affection, there are some topics you should discuss before you make your first step in an official relationship:
Dealing with finances after getting married

The representatives of the elderly generation have their own views on dealing with finances. They've already managed to accumulate assets and financial holdings. Merging finances in a newly-married couple can become a real burden just because the habits of the partners are different. One of them can be thrifty, taking every penny into consideration, while the other one is not used to saving money, having no idea what it is if one has to make ends meet.

To stay away from the possible trouble, you should do the following before getting married:

Share the information about your credit histories (if your potential partner is frank, he will be straightforward about this information);
Raise your mutual comfort levels by sharing the information about your debts;
Agree on how to pay the bills and paychecks together;
Agree on having a joint banking account so that both of you could monitor expenditures;
One of you should be the breadwinner, dealing with the most financial issues, or both of you will contribute equally;
If you are interested in beneficial investments, your potential partner has the right to know about your strategies and initial expenses;
Discuss where you're going to live;
Talk about your plans after the retirement;
If you have children and grandchildren, your potential spouse has the right to know about your financial investments in them;
A formal agreement or a marriage contract will simplify your relationship and make each other feel safe.

Tax filing info

The crucial issue here is to decide whether you're willing to return the taxes separately or to deal with a joint tax return.

Besides, you shouldn't forget about the tax issues with your previous partner if there are any.

Estate planning

Even if you think it's the most insignificant thing to discuss, estate planning is vital for a healthy family relationship. If your children are involved in the estate planning relationship, the procedure is obligatory. Estate planning is closely connected with the way your property will be used after you pass away (sorry, we have to discuss it).

Get in touch with your attorney if more beneficiaries are going to deal with your:

Wills;
Health and life insurance;
Retirement issues;
Financial investments;
Anything concerning financial issues and property.

Numerous real estate planners and accountants are ready to help you arrange a lawful prenuptial agreement protecting you and your family members from the financial problems in the future or after your death.

If you have a regular significant financial income or if both partners in a couple have resource disparities, a mutually signed agreement approved by a lawful attorney is obligatory. A properly made prenup will not let your spouse challenge you and your relatives even after your death.

Your prenup should include details on your children's inheritance and the possible management of it by your wife-husband in case of your death.

Social security benefits

If you're getting married after you retire, you do have the right to the Social Security benefit. In one year after getting married, you'll have the right to a partial financial benefit provided by your spouse.

If you're a widow/widower, you'll still receive financial benefits from your former spouse, depending on his/her income.

Medicaid benefits

If you're a low-income individual, you have the right to Medicaid benefits. Unfortunately, this Medicaid income depends on the income of your household. As soon as you get married, you add one more person to your household. If your new partner has a higher income than yours, it might negatively affect the benefits you get from the government.

Medicaid support is one of the main reasons why elderly adults don't get married after 60. Medical support and pharmaceutical products are too expensive for the prevailing part of the US population.
Life Longevity & Senior Dating
The single representatives of the elderly generation say that dating at this age somehow reminds of being unfaithful to the former partner, especially if it's about a widow or a widower. The older you get, the more misconceptions make you postpone dating activities just not to look obscene in the eyes of family and friends.
Nevertheless, past relationships, health issues, and family concerns should not deprive you of possible affection, friendship, love, and even intimacy. Date now not to lose your chance for happiness, because life longevity for you is crucial.
Why should you start dating right now?
Well, the reasons are drastically different from the ones you had when you were young. All people need companionship and intimacy that does not necessarily include sex. Numerous elderly people dating admit the fact that they simply feel safer and more comfortable while sleeping together in one bed without having sex.
Nevertheless, a bit of passion can also be a nice investment into a relationship regardless of age.
Accept the fact that life longevity means nothing because dating in your age means:
A lot of fun and pleasant activities that you can finally enjoy with a like-minded partner instead of doing everything on your own;
Relationships at this age are honest and equitable because you've been through a lot of things in life and there's nothing that can seriously surprise you with;
An elderly person of the west is more kind and tolerant to people of all ethnicities and religious confessions because they know that wisdom lies in the ability to understand people and listen to them instead of the development of confrontations.
Now let's pass on to how to overcome the obstacles at the elderly age.
Say goodbye to the details of your past, preventing you from the development of fruitful companionship. Get rid of anything reminding you of your past from your household. If you're not ready to throw this stuff away, share it with the homeless or donate it to anyone who might need it. This way, you'll perform a noble act and get rid of the senseless reminders.
It's OK to listen to the opinion of your kids and friends. Nevertheless, your life is not eternal, and no one has the right to deprive you of the possibility to develop a romance and enjoy your life with a new partner. Never yield to anyone's egoistic desires. Don't sacrifice your happiness while satisfying the desires of your envying or unreasonable relatives and pals.
Senior Dating in 2021: Where to Find Love After 70?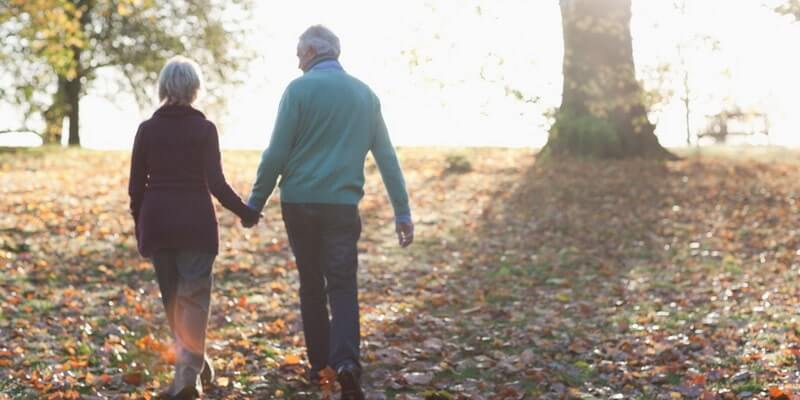 Online senior dating is an amazing opportunity to build a healthy relationship with mutual communication and strong bonds. In addition to the regular matchmaking platforms on the internet, there are more things that you can try while trying to find your love:
Dating senior neighbors. You'll be surprised to know how many wonderful and decent people surround you daily. You meet so often that you find it hard regarding them as potential partners. Try to have a look at your neighbors and their friends at the new angle. Give it a go, and don't waste time.
Join a couple of volunteer groups in the area. Even if you don't find a like-minded lover there, you'll surely make friends with numerous people of all ages, sharing your views on life.
Clubs and civic organizations. It's almost the same as volunteering except for the fact that you will not be connected with noble intentions, but with common hobbies. Have you always been too shy to visit a local salsa club? Well, it's high time for a dance lesson – it will spice up your routine life, give you a bit of exercise, and make you interact with a lot of people from your area.
Consider adult education. Learning new skills or a new profession is crucial at any age. It will help you keep your memory on your toes and train your logic and intelligence. Besides, you'll encounter a lot of people sharing the same interests and professional values. What can be better than finding a partner of the same intellectual values?
Start going to the local church or any other religious organization, depending on your preferences.
Join one of the travel groups in your area. There's nothing more reviving and inspirational than traveling. It doesn't matter what it is – a hiking tour, a day devoted to mountaineering, or a long traveling by train to one of the neighboring countries – you'll meet many people and have to socialize in a new environment. It will be a perfect reload with a ton of new impressions.
Building a Healthy Relationship while Senior Dating in 2021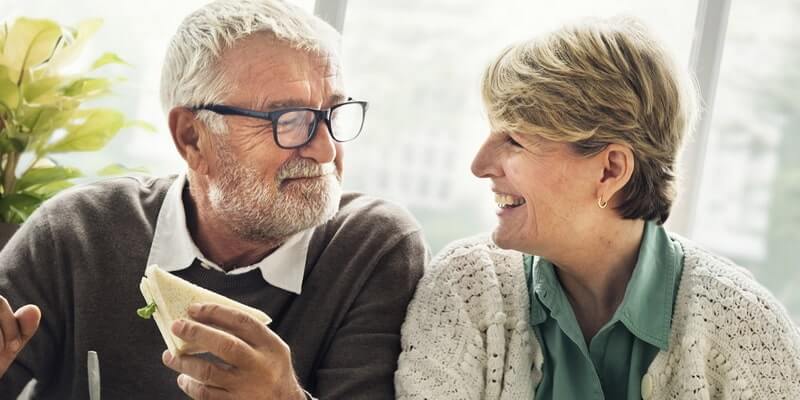 Communication is the only way to understanding who you and your partner are. A healthy relationship between partners and basic senior dating rules imply that both:
Demonstrate respect without blame for the mistakes of the past;
Speak straightforward when a tense situation happens;
Listen to each other's complaints even if they don't seem to be pleasant;
Celebrate mutual achievements and successes;
Show support in troublesome situations.
Love and affection at all ages are not built only on pleasant moments. If you're an older adult, you understand that getting out of problems together makes your couple stronger. Dating for senior people means being able to live within the same household without criticizing each other.
Senior Dating in 2021 & Boundaries
Senior ladies dating, as well as the elderly men dating, are used to certain ways of life. They do have their habits, and the aim of a mutual relationship is to be able to live together without depriving each other of the long-established habits. The golden rules of senior dating imply that both of you should:
Let your partner spend time with their family and friends;
Trust your partner and never try to check him/her with spyware and numerous technological solutions;
Give your partner enough free space so that he/she could enjoy the favorite activities;
Let's talk about such a thing as 'consent.' It's permission to stick to your promise to do something in line with your partner's desires.
Firstly, consent gives both of you a possibility to express your real expectations from a relationship. Secondly, the consent can be taken back if your partner makes your life uncomfortable, ruining his/her consent. Thirdly, implied consent does not exist in a relationship – if you don't say 'no,' it doesn't mean 'yes.'
How to Initiate Senior Dating in 2021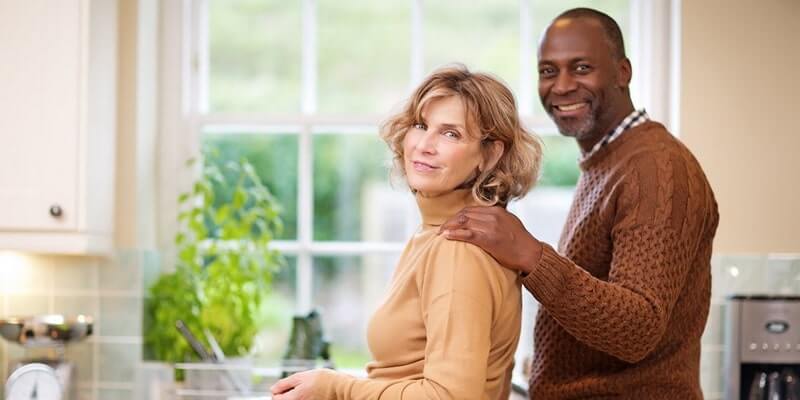 Google for senior dating 2021 and get shocked at how many people over 50 are willing to find like-minded partners.
If you're an older man still afraid of dealing with senior dating in 2021, we have a couple of tips to share:
Ask your younger friends or children for help. They know how social networks work. Besides, they will give you a hand with making decent, relevant pictures of yours and filling the account with sharing personal information that the other senior singles might find appealing.
Be prepared to communicate with the potential partners for at least a couple of hours a day. You should start with the development of friendly relationships. Later, you'll understand who can turn into your significant other.