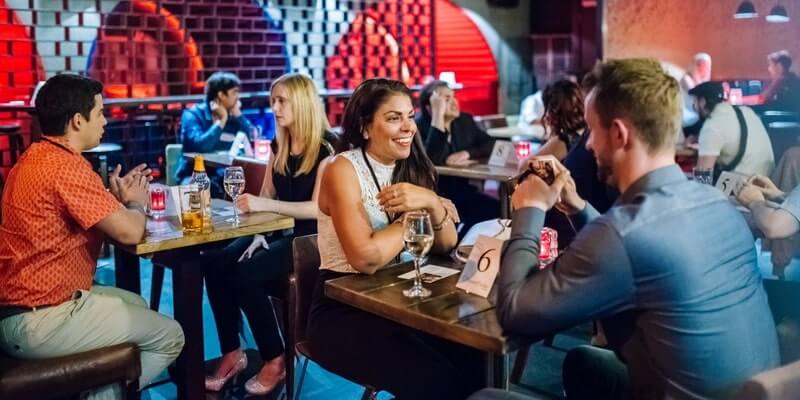 Have you ever heard about speed dating? Well, the modern world has become incredibly developed in matters of matchmaking on online interaction between men and women of all ages and religious confessions. Speed dating events can become your key to mutual happiness and understanding in a relationship because:
Most people getting to an event like this are purposeful. They are not interested in one-night stands. They are sincerely interested in meeting people in line with their preferences and life aspirations.
Speed dating is one of the most convenient, less troublesome, and resource-intensive events. You don't have enough time, and the only thing you can do is to ask direct questions and behave naturally. You have no idea about the result, but everything will be prompt and straightforward.
Lonely mature people searching for meaningful communication understand that speed dating events are more fruitful in comparison to regular dates taking too much time, patience, and money.
How does speed dating work? The issue has been developing since the last part of the twentieth century, and now speed dating events are among the most fruitful social arrangements.
Does Speed Dating Work for Everyone?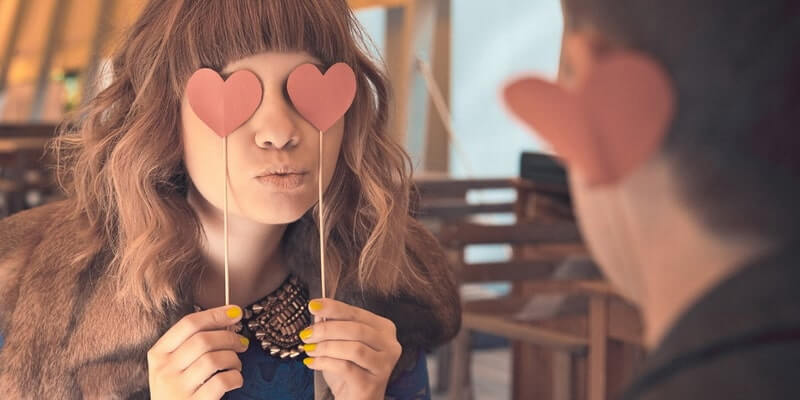 All dating events starting from a regular online dating chat finishing with group dating where you have a chance to get acquainted with multiple potential partners are helpful. You don't have to be of a certain age to participate in any of matchmaking processes. Make sure you're open for communication with people of all ages, interests and religions. Be wise, polite, and never forget about your aspirations.
Brief encounters and talks between the partners are a lot more beneficial than you might think. Habitual dates take too much of your time and money - you have no idea who you are going to meet and what you're going to experience. Speed dating is prompt and targeted – you don't have the time for disappointment. It's an efficient approach.
How Speed Dating Works in 2021: Basic Things to Understand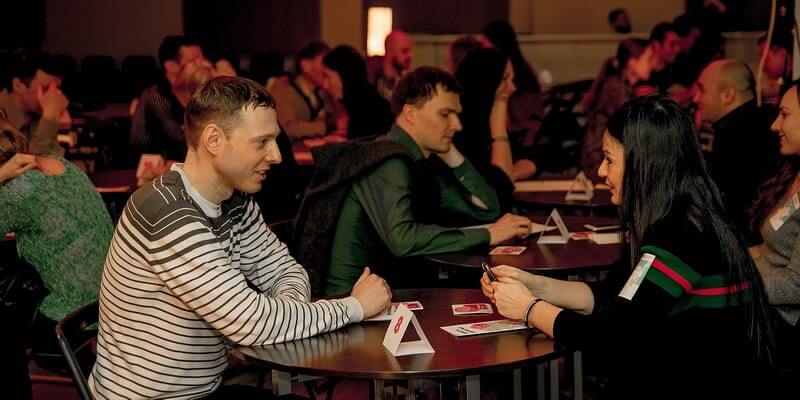 The first speed dating events were arranged by the most practical people – the Jewish. This useful tradition has become a phenomenon widespread all over the world. It's one of the widely accepted forms of matchmaking. The process may be troublesome for the new singles. Getting acquainted with many people at once can be emotionally disturbing.
So, how does speed dating work, and what are the best speed dating questions? Read further to find out more.
All Speed Dating Events Should Be in Line with Attraction Rules
Speed dating services are now offered by a number of companies in all countries. The techniques and matchmaking mechanisms are different, but basically, there's a list of general rules you should follow:
Be realistic about your expectations – a shortlist of essential qualities you wish to see in your partner might come in handy;
Make sure you're ready for the inconveniences and awkward situations connected with various visions of the world, different religious values, and backgrounds;
Look clean and neat because no one would like to interact with a person who does not have a wish to invest time in looking good and smelling nice;
Be careful with alcohol – a glass of wine or a bottle of beer is sufficient if you need to relax before a conversation with an unknown person.
Best Behavior Tips for Speed Dating Events
Most speed dating agencies have rules for the participants. If you don't follow them, you'll lose your chance to find a decent partner faster and more effectively. The essentials are listed below:
Most speed dating events imply red clothes colours for women and blue clothes tints for men. Wear something neat and appropriate. There's nothing wrong in looking unconventional.
Nevertheless, remember that you don't have too much time to show off your peculiarities and distract attention from the communication with your looks. Opt for basic clothes, optimum makeup, and minimum accessories. The first impression is vital at speed dating events.
Cinnamon and vanilla-based perfumes on women attract men, while black liquorice based perfumes are best for men.
Being drunk or stimulated by any substances available both legally or illegally is unacceptable. A glass of wine can be an option, but if you're unable to express yourself without stimulating substances, speed dating if not your choice. It demands concentration and promptness.
Smile. Keep smiling, no matter what. If you do have a sense of humour, don't hesitate to use it. If your speed dating partner does not like it, it's evident that she will not be your perfect choice. Be positive, don't be afraid to laugh, and use your charms without fear.
TOP 15 Speed Dating Questions 2021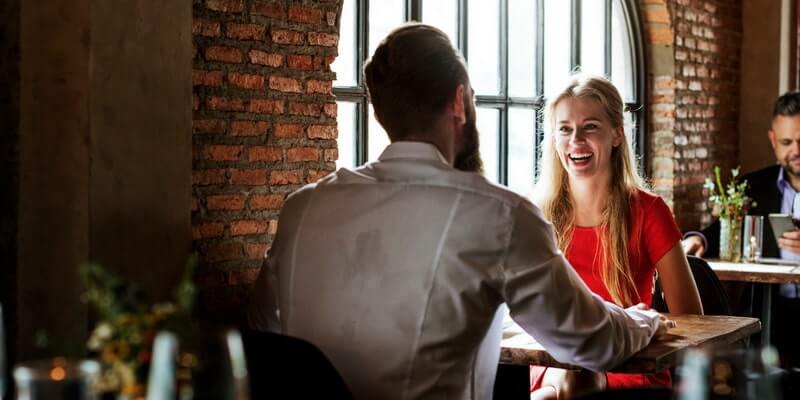 We'll start with the most common list of questions for those who have no idea what speed dating is and what are the best speed dating questions to ask your potential partner.
How do you earn a living?
What is your favourite way to relax?
What is the most amusing thing you've done in your life?
What is your greatest dream?
Is there anything you're willing to do but have no possibility to realize?
Who's the person you look up at?
Have you ever done anything you are regretful about at present?
Do you like what you do to earn for a living?
Have you ever considered learning a new profession?
What is your attitude to alcohol, tobacco, and any other relaxing substances?
What's your idea of family life?
Are you ready to help your parents financially if it turns out they are not able to maintain themselves?
Do you have a pet? Are you a dog or a cat person?
Best Speed Dating Questions for Thoughtful and Unpredictable People
If you're not into regular communication and if you're fed up with daily conversation topics, the following conversation starters might be helpful.
What is the dumbest thing you've ever done?
What would you do if you know you're not going to live tomorrow?
Can you share one of your greatest secrets with me?
Have you ever associated yourself with a famous person?
Is there anything you always imagine while being in bed ready for your night's sleep?
What kinds of people make you feel embarrassed or irritated?
How do you usually deal with irritation?
Have you ever been so excited that it made you feel out of breath?
Is there an unusual pet you would like to have?
Have you ever dealt with body modifications?
What is your attitude to LGTB culture?
How would you prefer sex in a relationship?
Is it necessary to be friends within a wife-husband relationship?
What is the most positive change you see in the world?
Do you consider addictions to people or substances healthy?
All in all, you shouldn't be afraid of any questions to ask. The only thing you should keep in mind that each of the questions you ask is to be appropriate for you as well.
How to Look & Behave at Speed Dating Events in 2021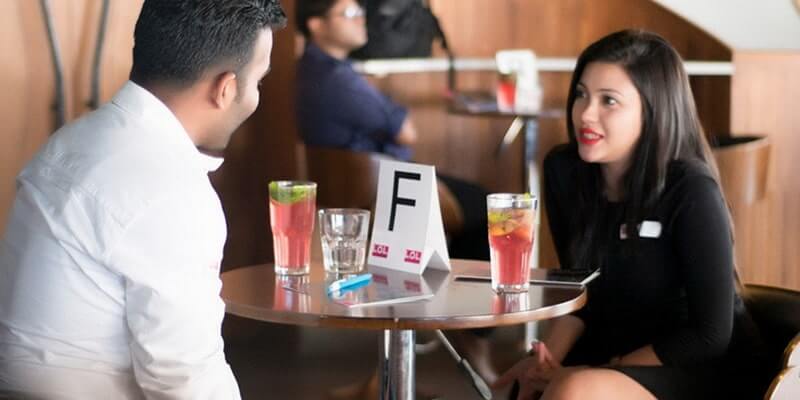 Speed dating questions make up only a part of this culture. How does speed dating work? What are the best strategies to stick to? Are there any insignificant things that can alter the way one of your speed dating events is going?
There's no exact explanation to what makes events like these beneficial. Nevertheless, 10 minutes can be enough to find out essential details about your potential partner. You'll have to be careful and extra careful. What is love? Perceptions of love and romance are different. Some people think love is chemistry based on physical attraction and regular intimacy. Some of them believe that love is something you can share when you have to face troubles hand in hand regardless of the amount of sex you have.
Everything depends on your aims. Speed dating questions are destined to make both of you understand whether you have many chances to build love or not. The idea of all speed dating events is to help you save time and meet decent people within limited circumstances. This will help you speed up and make your communication profitable with the use of a couple of words combined with nice manners.
How Speed Dating Works & What Makes Good Impression?
Speed dating events give you a possibility to be prompt about your romance possibilities. You don't have to waste time on long dates where both of you feel too shy or emotionally reserved to speak out about anything. Both of you are afraid to produce the wrong impression with one insignificant gesture. You don't have a lot of room for emotions when it comes to time-limited conversations. You have to consider each of your words and actions carefully. Besides, you have to follow specific rules.
Be fair about what you see. Don't be controlled by subjective first impressions. Everyone deserves a chance at a speed dating event.
Believe in yourself It's one of the dumbest tips to share, but the most potent matchmaking instrument is the ability to demonstrate your strengths and control your weaknesses. Being too anxious and troubled will give out your own compulsion.
Feel confident about your talents and knowledge. There's nothing wrong in being too anxious or worried. Nevertheless, it shouldn't be accompanied by ignorance, thoughtless remarks, and attempts to look smarter than you are. You should psych yourself up before entering a conversation with your potential partner.
Be pro-active. A match is not a random coincidence. It's a result of mutual efforts aimed at meaningful communication. Being colourless here is not an option. Learn to be more productive and appealing in the eyes of the public before getting to one of the local speed dating events.
Things to Know About Speed Dating in 2021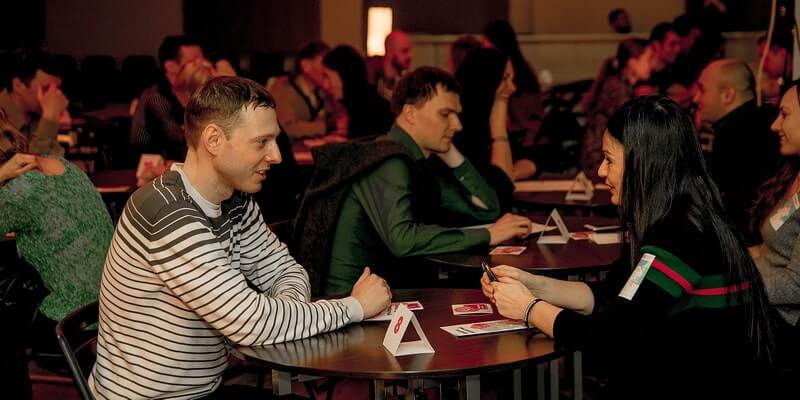 Learn to fight the embarrassment – you don't have time for it. Concentrate on the essential conversation topics, because your interlocutor and you have the same aims.
Be ready for an open conversation. You don't have to waste time on the arrangement of a date in a cinema or in a restaurant. Concentrate on the talk itself, rather than on producing an impression.
Prepare your questions beforehand. Just make sure they are not too tricky for answering. Your interlocutor should not waste time thinking about how to answer a creative question.
Speed Dating in 2021: Bottom Line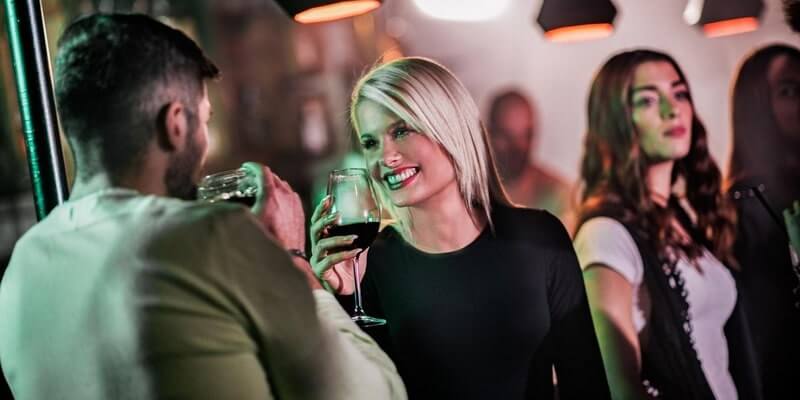 Be brave – other people are worried as much as you are;
Be bold – you don't have time for colourless and senseless conversations;
Be sincere – show off your emotions to help your interlocutor understand whether you are psychologically compatible;
Be prompt – answering serious and tricky questions is a must;
The most important rule is not to be afraid to make a mistake. You won't have a second chance to produce your first impression, and the way your interlocutor treats you is mostly the result of your efforts. Efforts? Well, one of the best strategies is to look like you've not put too much effort into it. Being natural is the key. The following tips may help you:
Wear comfortable clothes – don't buy anything unique for a speed date and wear something you already have;
Don't let yourself drink too much alcohol – a glass of wine will do to help you stay concentrated and relaxed at the same time;
Be straightforward about your wishes and expectations – don't lose your mutual time for the discussions of things you're not planning to do;
Be smart – demonstrate that you're ready for meaningful companionship and specify your aspirations;
Increase your chances to find your perfect partner – show that you care and ask significant questions;
Be realistic – the list of qualities you're willing to see in your potential partner should be as short as it is possible;
Improve your socialization skills – learn to circulate and don't hesitate when someone invites you to a party or to a social event to boost up your communication proficiency.
Aim to be smart, predictable, and sincere in the process of communication. You should make the person sitting in front of you trust you. Your trustworthiness will lead to a short, but fruitful conversation destined to build your potential future. Be wise about it, and don't let your self-doubt ruin the path to your future.