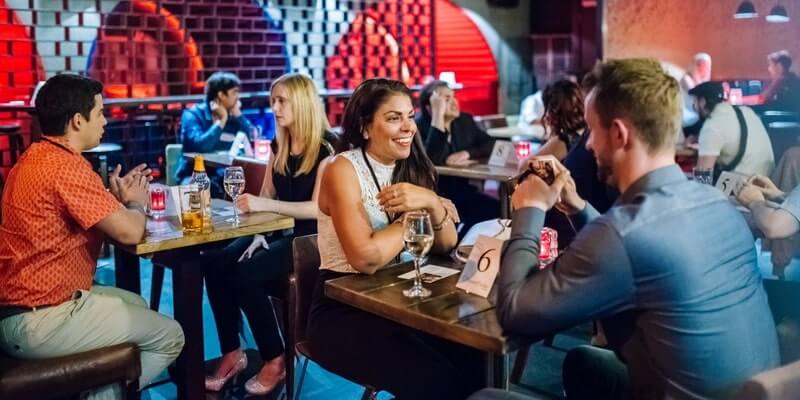 One of the most remarkable ways of meeting and interacting with a vast number of people within one sitting is through speed dating. The central idea that steers speed dating is localization. This aspect makes it easy for you to mingle with people within your locality.
Consequently, you're sure you'll meet on other dates now that most people who come for such events are within your neighborhood. Our guide will take you through general and in-depth matters regarding this exercise if you're looking to understand how online and in-person speed dating works.
Speed Dating Explained
A significant number of people still wonder how speed dating works. In a nutshell, speed dating is an affair that involves interaction with many people within a short time. Event organizers that put such events together prefer to set them in the early evenings or late into the night.
Demographics such as age and residential location come into play to make the game exciting. Most speed dating events last between one to two hours, allowing each person to interact with a minimum of 10 people.
Online speed dating is the newest trend in this niche. Participants are allowed to meet new members via timed video calls. However, the traditional form of this game only takes place in person, and most occasions are in bars or local leisure joints.
How In-person Speed Dating Goes
Most speed dating events take place in bars or decent restaurants. Cocktail tables set one or more meters apart are used as conversation points. You have to be aware of the ongoing or incoming speed dating events within your locality.
Next comes the most critical part - showing up. Get to the venue and record your information with the event organizer. You'll be given a scorecard, which helps you write down your dates' results. Arriving before most people gives you the leisure of selecting where you'll sit.
If you come late, you'll take whatever seat is available. Once everyone is in place, the master/mistress of the ceremony will start the event. Each pair of participants has 5 – 10 minutes to interact. The game's aim is to question your date to discover if they are a perfect fit for you. Once a turn is over, the gents move to the next seat while the ladies stay put.
After each round, everyone indicates whether they liked the date on their scorecard. The men move to the next table, and the game begins again. The cycle continues until each person interacts with everyone in the event or when time runs out.
At the end of the event, the scorecards' details are recorded to see which partners simultaneously said yes or maybe to each other. The organizer then sends you the details of your newfound partner within 24 hours.
The size of each speed dating affair depends on the organizer's popularity, venue's size, or the number of singles in a town or city.
How Internet Speed Dating Works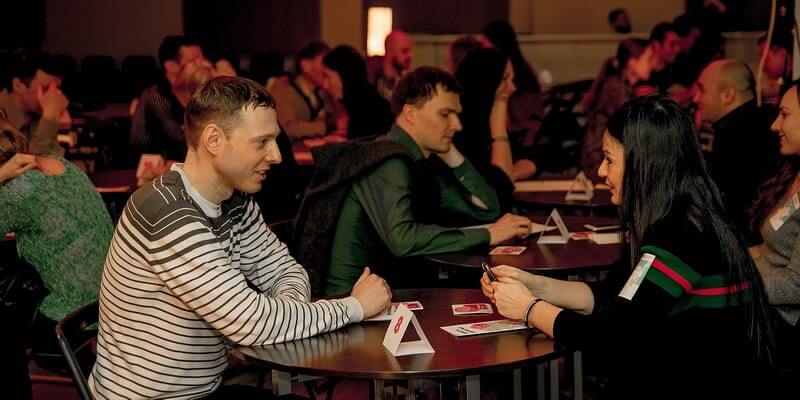 The same concept is applied to online speed dating. The only difference is that the meetings take place via video chats. Unlike in-person dating, internet speed dating events are usually massive since there aren't any space restrictions.
Once you log in to a dating event, you join the lobby area, where you wait for the team to allocate you a date. Once you get a date, you do your due diligence, then click on yes or no, depending on your evaluation. You will then move back to the lobby and wait for your next date.
The website uses algorithms as a matchmaker to connect you to your date. It allocates you a date depending on your selected age range and liking. Unlike real-life dates, online speed dating events are shorter. Each round lasts a maximum of six minutes. Therefore, you get to mingle with more people at an event.
The organizer sends the respective event's results to each person immediately after the event ends or within 24 hours, depending on the agreement.
Why Speed Dating Supersedes Regular Dating Apps
Several people have complained about sites, and applications, citing they are pointless. Members have to communicate in online dating chat with as many people as they want until they find their perfect match, but this is never the case with online dating applications.
The availability of several people to pick from, coupled with the possibility of chatting with multiple people simultaneously, makes online dating apps interesting. However, the adrenaline vanishes after a few days. And when the couple gets the rare chance of meeting in real life, the lack of chemistry is undeniable.
On the other hand, online speed dating lets you have a one-on-one conversation with your potential date and see how you're faring in the dating market. You also get to know if you have a connection with the people you meet, making the possibility of successful real-life dates higher.
You avoid time-wasting conversations and potentially losing money if you're on a paid dating website. Additionally, you address all concerns within a few minutes and look forward to your next actual date.
Speed Dating Dress Code
Your appearance matters when it comes to speed dating, considering you will meet your potential date in person or virtually. You want to create an excellent first impression and keep your dates thinking about you. Find flattering garments that will effortlessly achieve your goals.
Overdoing it is much better than coming to a speed dating event looking like you didn't make any effort. While most people in real-life speed dating show up for these events in their office wear, do not shy away from donning your best garments if your shift ends earlier. And if you'd like to change into something more appealing than suits, feel free to come with extra clothes for the event.
Most people only need to see the top half of your body when it comes to online speed dating, but that doesn't mean you shouldn't go all out. Do all you can to look exceptionally good for your dates.
Ladies' Dressing Options
Gents enjoy looking at ladies that look feminine. So, if you have a few flattering dresses in your wardrobe, use those to capture your viewer's attention. A pair of heels would accentuate your figure and make you look more confident.
Considering it's the first date and you're contesting against several other participants, dress to impress. Suppose you have statement jewelry and or brightly colored accessories to make you distinct from the rest. Ensure everyone remembers you, for the right reasons, of course.
Men's Speed Dating Apparel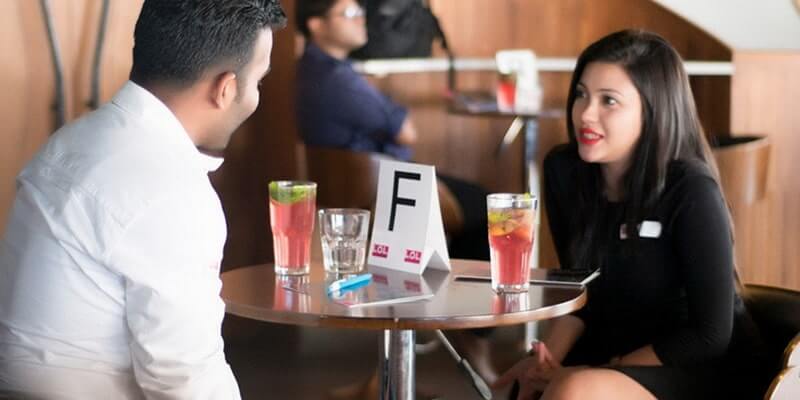 Men are accustomed to showing up for such events without changing their appearance. Change the narrative and impress your dates for the night. Picking garments that resonate with your character is a great way to do this.
The most common options you can choose from include:
Statement shirts
Polo shirts
Chinos
Well-fitting jackets
Trendy jumpers
Pair your tops with befitting trousers to create an appealing look. Pick exceptionally good watches, necklaces, or rings if you enjoy donning accessories. Whether you opt for boots, loafers, sneakers, or official-wear shoes, they must be clean and should compliment your look.
Scribble Some Notes About Your Dates
Writing down a few exciting things about each date is a critical step in speed dating that allows you to differentiate from all the people you meet at the event. Scribble a few things that stand out about each date you meet on your scorecard.
Do this during the game so you can keep tabs on each one. Limit your notes to a maximum of two words per character. However, do not let your dates have a peek at your notes or discover you're writing something about them down. Keep it discreet.
Your First Impression Should Be Excellent
How you present yourself within the first few minutes of meeting your date determines what they think of you. Sit upright, keep a smile on your face, and have an inviting look in your eyes. Let your body language be impressive and alluring.
Lock eyes with your date, but ensure that your gaze isn't intimidating. Whether or not you feel confident, ooze confidence. It doesn't matter if you have to fake the feeling. Do it repeatedly until you look and feel it.
Improving Your Speed Dating Abilities
No one is perfect at speed dating. Even the people you perceive as experts had moments when they second-guessed themselves. The trick to being confident is participating in as many speed dating events as possible. With time, you better express yourself and know how to answer your dates. You also better understand what you need to ask your dates.
Positive Talk and Smiling Through It All
No one wants to hear about your failures in your speed dates. Negative vibes won't get you a date. Rather, you get more rejections until you know how to maneuver through the process. Nervousness is expected before each speed dating event, especially if it's your first time attending one.
Understand that everyone is in the same predicament and is looking to end their days of loneliness. Take a few deep breaths, relax, and slap that smile back to your face. If you ooze good energy, the chances of landing a date increase significantly. Remember that these are fun moments, so do not overthink or worry too much about the outcome.
Staying Calm All Through
Whether you're good at speed dating or not, it is inevitable to be nervous. Meeting new people has a way of unsettling even the bravest orators. However, your nerves settle as soon as the event commences.
The short time makes it easier to go through the questions, whether or not you connect with your dates. Most people try to be nice and kind to the people sitting opposite them. The host also tries to crack jokes, break the tension, and ensure that even the timidest people enjoy themselves.
Helpful Tips for Speed Dating on the Internet
Aside from showing up for the event and looking dashing, other tips for speed dating that help make your experience much better also come into play.
Maintain an eye-level posture with the camera.
Keep your primary source of light in front of you.
Please stay away from patterns since they tend to look unappealing on camera. Opt for plainclothes instead.
Do an audio and video test before the event begins.
Always keep an upright posture.
Look at the camera, not the screen. This gives an impression you are keeping eye contact.
Hand gestures and facial expressions help get the message across.
The Right Questions to Ask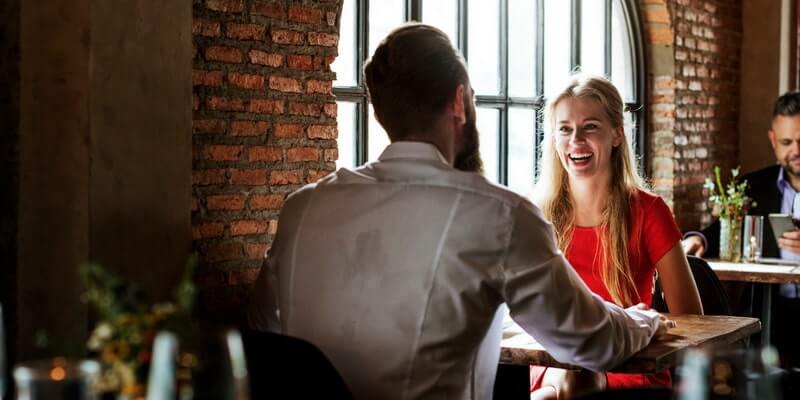 Speed dating happens so fast, so you want to ask the right questions. The aim is to try and get acquainted with your date in the shortest time possible.
Asking speed dating questions about their work, childhood, dating preferences, interests, aspirations, and entertainment helps them achieve their goals effortlessly. Nevertheless, stay away from questions about past relationships, religion, politics, kids, or work. These questions evoke unpleasant memories or require a lot of time, which you do not have.