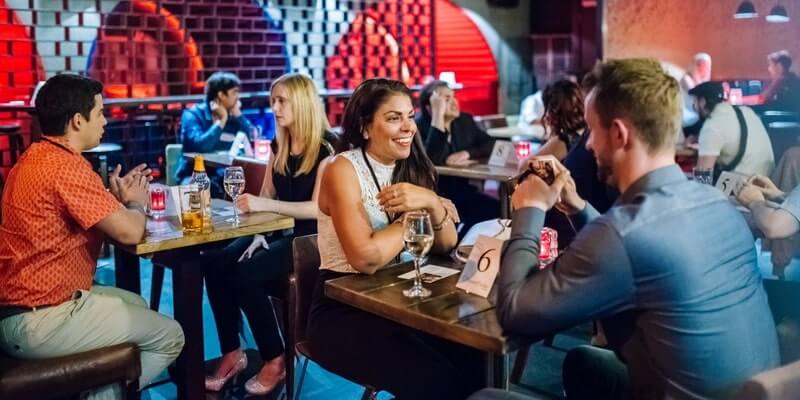 How does speed dating work? It was founded at the end of the 20th century. That's a process that helps you to find a match. It's one of the innovative and the fastest ways to find a partner. Generally, you have 3 or 4 minutes to find out the basic characteristic of your partner. It means that you have to be prepared for a date like this.
One of the best PROs here is that you have a chance to choose. One of the worst CONs is that you have to limit your conversations to the set of basic questions to get short and meaningful answers. In reality, it may get even worse – you may experience an unwanted silence or rudeness.
How a Speed Dating Generally Happens
A speed date is generally organized by a certain company. You can find a plenty of them in the net. These events are pre-paid. This way you get the best service and organization. You get to an arranged meeting point and stay seated in the room in case if you're a lady. You communicate with men for about four minutes and find out the basic characteristics of this or that guy. You'll have to leave the marks to this or that man that you meet to denote your potential interests. These marks are kept until the following step.
As soon as the short "interviewing" process is over, you have a chance to communicate with everyone in the crowd. You'll be sipping drinks trying to continue the conversation in a relaxed atmosphere.
What Happens After a Speed Dating?
You find out the information about the number of matches you've got. It may happen in different ways depending on the speed dating company you're working with. In addition to the matches, you're free to connect to anyone you've seen on the speed dating event.
If you didn't manage to choose anyone, most speed dating companies give you a second chance for free. Speed dating means nothing to lose and stay away from disappointment.
Evident PROS:
That's a perfect way to see each other in reality in comparison to the old-fashioned ways of dating resources with out-of-date photographs. You'll be able to evaluate the overall appearance and feel the chemistry at once.
Online dating resources are perfect for cheaters and liars. Speed dating is an event where it's hard to lie because you have to look right in the eyes of your potential partner for the very first time.
Speed dating gives all of your partners even chances. It means that there's always a chance to pick out the one you've never thought you'll be dating.