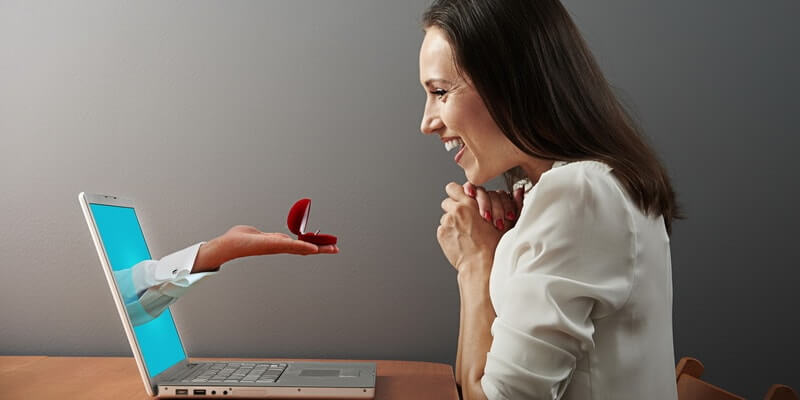 When talented IT specialists created Photoshop and let the world of online dating get filled with an impressive amount of fake accounts with non-realistic people on the pictures, more and more people become skeptical about the potential of communication like this. Most of us look for mutual spirituality and understanding in a relationship, but the visual aspect of interaction in social media often spoils everything. You are disappointed with people, you feel devastated emotionally, and you have no powers to continue the search.
Not every curvy and fit lady you come across in Instagram will be the same in reality and not every manly-looking guy will have a real character to show. Let's deal with a list of most common flaws of communication via the internet and find proper ways to save ourselves from disappointments.
7 Most Disappointing Facts about Online Dating
Men fake it more often than women
Yes, this is a statistically proven fact. For some reason, most men are prone to faking their actual lives. They take a strategically wrong solution trying to attract the ladies' attention with skills that they don't have, with non-existing material values, and with inspiring talks about potentially successful career opportunities.
We don't want to say that women behave more decent than men. The reason is that they mostly fake or partially alter their appearances and tend not to conceal their real way of life being honest about their expectations and life values. It's just that men fake their whole lives while women only try to look better than they are.
Usually, when a woman finds someone she cares for, she does her best to look the way she is expected. It's highly improbable that a man will be able to do the same and recreate his whole life if he started your relationship with pure lies.
Dating sites are often wrong
Quite a lot of online dating platforms use special algorithms to simplify the matchmaking process. They make their users pass through special individuality tests to find out the most appropriate matches basing on psychological and intellectual characteristics. There are also matchmaking resources focusing on people of certain appearances, nationalities, and sexual orientation.
Remember, that these platforms are no more than useful tools simplifying the process. You'll never know anything about a person until you have a couple of conversations with him/her. Don't be silly and never try to expect too much from the electronic matchmaking websites. You only find a person with common interests, but not your soulmate.
Identity theft is a real trouble
Illusion – Just for this, I ask... Well, unfortunately, most people cannot resist the temptation and trust anyone and anything that looks like their fantasy. A sweet and honest young guy with moderate income and average appearance will attract a lot less attention in comparison to a muscled hunk owning a Porsche and a villa in Spain.
Have you ever wondered why this impressive man with appealing looks and belongings is searching for a match on an online dating resource? A man like this will always be enclosed in a circle of successful people – he has no need in looking for someone online except for, maybe, a professional escort.
Remember: virtual reality is stuffed with people hiding their real personalities for different reasons. There's nothing dangerous in case if they're only looking for fun. Unfortunately, in most cases, they are immoral liars, cheaters, criminals, and gigolos. Never overestimate what you see and be careful about your illusions.
The language
Be suspicious about those who boast about their success in intellectual and business areas if they make regular errors while texting you. It's bizarre that such an intellectually developed person with exciting plans for the future has troubles in finding a companion in real life.
People hiding behind the fake accounts can be refugees or fugitives from far-away countries looking for financial support. They will do their best to produce a positive impression on you. They can even try to make you feel sentimental appealing to your sensitive heart and asking you for money. People like these are often not interested in real life dates. Online dating websites are perfect ways for them to find more victims.
Sad delusions
Quite a lot of people have a peculiar talent of looking impressive in the pictures. They have a ton of remarkable photos in their profiles, and their online lives can be very appealing. The trouble is that these people have found ways to make themselves look attractive at certain angles and with certain lighting. They know their perfect positions for photo shooting, and they don't even have to use Photoshop to alter anything.
You'll be incredibly surprised when you see a girl like this in real life after you enjoy a bunch of her best pictures. Never build up any expectations until you finally see each other eye-to-eye.
Don't let a liar look forward to further communication
In case if it's too late and you already understand you've made a mistake, forget about it and don't let communication with a liar develop. Consider it an educational mistake and don't allow the cheater to enter your life. You'll never regret it if you find the strength to end this relationship at the start. Liars don't deserve romance and friendship unless something makes them change their lifestyle. Maybe, your rejections will become the starting point for them.
Copy pasting
That's one of the most disgusting things of online dating. Singles often create a list of messages and use them as samples for communication with anyone they are interested in. These are long cliché texts created to save them the effort. Don't ever do this yourself and find ways to contact two or three people online instead of bulk texting. This way you'll find a like-minded companion corresponding to your nature and your mood as well.
Online Dating: Avoiding Misconceptions
Now let's pass on to the top misconceptions about online slavic dating. They will save your time and nerves. The experience of the users made inspired us to add this information to the article.
It's for the Losers
No. There's a ton of reasons making people of different professions and education look for a match on the internet. There's a number of time-consuming jobs people have to perform compromising their personal lives. There are also extremely attractive, but shy people afraid of getting in touch with the world without preliminary precautions. They are afraid of making mistakes, and they want to find their destinies as fast as it is possible. Many members of online matchmaking platforms are purposeful young men and women far from being losers or weirdos.
It Doesn't Work at All
This is far from the truth. In most cases, if you don't get enough responses every day and if your communication on the net is dry and looks senseless, you should re-examine your activity and check whether your profile information is acceptable for the society.
It doesn't mean that you should make people interested by posting attractive lies in your account. You should be attentive to details about your lifestyle and pick out the most exciting characteristics of you. Of course, if you were charged with a robbery, speaking about it in public is not a very good idea. Keep this detail for a more private conversation if you're such an honest person.
You should also make sure that you have enough relevant pictures of you. It's pleasant and soothing to know that a real person is standing behind an online account.
It's for One Night Stands
Well, it fully depends on your aims. There's nothing wrong in looking for a partner just for one night. If your interests and goals go in line with each other, you'll quickly understand it through your thoughtful conversation. Be straightforward about what you're looking for at present, and you'll find the right person. Your sincerity combined with a properly arranged account information will result in a quicker outcome.
There's another thing to think over: people paying monthly fees for the use of an online dating website are certainly interested in something having more potential than a one-time thing. Yes, misunderstanding is possible. However, it won't be as troublesome as in real life.
Finding Your Soulmate Is Impossible
You've probably heard the conversations of people feeling insecure about the online matchmaking process. They are sure that finding true love in the net is tough because of the absence of human warmth. They think that we can only find love by getting in touch with each other, sharing our chemistry and inner energy.
There's no denying to that! Nevertheless, what's wrong in trying to narrow down the circle while getting more chances to find at least a like-minded pen friend? When your choice is limited to a certain number of positive variants, you get more chances of finding that very person with the same life values.
Each meaningful partnership should have a common ground. If your communication starts with a thoughtful friendship, you'll have more possibilities to turn it into the most beautiful and everlasting romance of your life!
Danger Is All Around
Don't think that online social space is only filled with maniacs and sociopaths. Meeting dangerous strangers in real life is possible as well. We all wear masks, and you never know whether you're entering a bus with a maniac or a decent civilian. It's the same with the profiles of the users. Don't get paranoid and take the same precautionary measures on the web as in real life:
Don't be honest with strangers;
Never share your data with anyone you don't know well;
Don't let your kids get into interactive communication without your control;
Don't pay anyone unless you make sure it's safe;
Never use anyone's personal information or media to insult or somehow hurt people on the internet – identity theft, as well as defamation, are considered criminal actions.
Be nice and cautious, and everything will be fine. One more thing here: remember that you can google for the photographs of your communication partner to know whether this person is real or not. It's simple and effective. Ask your younger relatives to help you with it.
Masquerade
Make-believers are everywhere, and the web space is not an exception. Scientists agree that the establishment of social media has changed the way people look at each other. Jealousy and mutual aggression develop in a society where everyone is trying to look and behave better than he/she is. It's the same with matchmaking. Yes, quite a lot of people are smoke and mirrors in their inner world.
The only way out is not to be too trusting. Ask as more questions, as you need to find out whether a man or a woman you are texting with is true to you. Make notes, if you wish. Search for the gaps and discrepancies in your dialogue. When you feel your conversation is losing the sense, stop keeping it open.
Bottom Line
Don't be afraid of anything. The main goal of online communication is to understand whether you have a potential for further communication or not. It will save you time because you won't need to waste it on fruitless meet-ups. The following pros are guaranteed:
You stay on the safe side avoiding direct interaction while introducing yourself;
You have time to think and check your potential partner;
You don't have to be pretentious;
You don't get heart-broken, because, in case of a break-up, both of you experience similar losses.
Are there potential pitfalls? Yes. Can you avoid them? Definitely, yes. Is it dangerous? Just like any social involvement in life. Can you control it? Of course, you can. Look out for scams and never let anyone involve you in an activity you're not interested in.