What is sexual frustration? If you have no idea why you'd better leave because now we're going to discuss essential things here.
Sexual frustration occurs when your partner or some other circumstances make you feel physically unsatisfied. It causes emotional problems and aggressive reactions without significant reason. You feel tired, you can't concentrate on the things you do, and you have no idea how to make yourself control your body and mind.
The first thing that comes in mind when we speak about dealing with sexual frustration is regular masturbation. Do you think it's wrong and unhealthy? Well, our online dating service specialists are ready to dissuade you.
Self-satisfaction is a normal process that helps living creatures deal with inner tension. Up to 90% of men and more than 60% of women masturbate regularly and feel nothing wrong about it because it helps them restore the concentration and control their emotionality.
The weirdest ways of masturbation are also healthy (especially when we speak about sexually frustrated women). Most females are different in the ways they like to get physical pleasure. It's hard to find a universal way to a satisfying stimulation. You shouldn't feel ashamed if your self-satisfaction way works no matter how strange it seems to you.
Endorphins released when you orgasm improve your mood and stimulate you for creative and spiritual activity. You sleep better, feel relaxed, and stop feeling physically devastated. Professional burn-up is often caused by irregular sex life.
Sexual Frustration: Meaning & Ways to Deal with It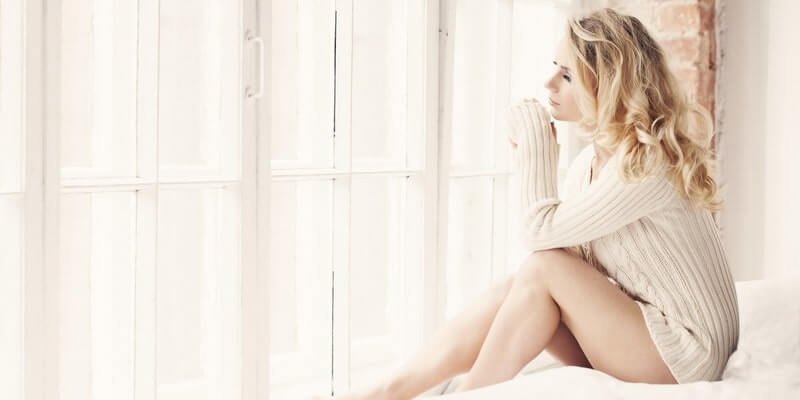 Never stick to anyone's standards. You have the right to reach orgasm the way you might want, and you shouldn't take porn as an example. Porn is the last thing a woman should rely on. It's just a movie with a plot and, in most cases, it is never connected with the way these people get orgasms in real life.
Never let anyone put you into his/her box of misconceptions about what is right and wrong. The amount of sex you want to have, it's intensity, your favourite positions, and your orgasmic feel are individual. We want to say that if you are not satisfied with your sexual life, it might mean that your current partner is trying to make you stick to his/her standards.
What is sexual frustration in 2021? It's not the absolute absence of sex. It also means insufficient or unsatisfying sex experience, which does not give you the desired chance to get rid of your tension. Inability to orgasm also results in sexual tension. Start dealing with this problem by getting pleasure from intimacy without concentration on the orgasm itself.
Don't be afraid to release your tension with the help of the pleasures, which most people find weird and unconventional. There's nothing wrong in fetishism, BDSM, or watching porn together if the partners know how to do things with care and respect.
What Happens When You Are Sexually Frustrated: Symptoms & Tips
A sexually frustrated person is unsure of himself/herself. If you feel unworthy trying to find out what's wrong with you, you probably experience sexual frustration. The only way out id to learn that each of us is beautiful in his/her own way and nothing happens without reason. Your appearance and your manners have nothing in common with your sexual satisfaction. It's just that you haven't found the right partner.
Remember the following things:
About 90 % of women in the United States of America do not feel satisfied with the way they look. Not each of the women can fit the standards imposed by the media. Everything around us is screaming about the way a woman 'must' look, and most of them fall for that. It spoils self-esteem and limits your emotional and physiological openness.
You'll have to build your social circle together with the people who show off respect and genuine care for you. It's not only about the lovers. It's about friends, pals, and positively-thinking likeminded people in gyms, clubs, and social organizations. When a person does not give you advice on how to change your appearance to fit everyone's expectations, it's healthy communication. Sincere people always help to boost your self-esteem.
Unconventional Way to Beat Sexual Frustration in 2021
Get on a date on your own. Sounds silly when you think about it, but it often helps to restore your moral powers and get a better understanding of yourself.
Get to the theatre;
Go on a picnic on your own;
Have long bicycle rides;
Grab a cosy blanket and get to the beach or one of the local parks with a book;
Visit a local museum;
Cook or order a delicious dinner with a bottle of fine wine for yourself.
Learn to enjoy simple pleasures. It helps you firstly deal with your psychological tension. These "lonely dates" will help you relax and learn to find happiness in simple things. Why do you do this?
To find out how romantic you can be;
To reveal your inner beauty to yourself;
To understand that spending time with you is not a waste of time.
You do this to learn to appreciate yourself and become desirable for yourself. When you like yourself, nothing can constrain you from getting pleasures that nature gives us.
Don't Focus On Orgasm When Sexually Frustrated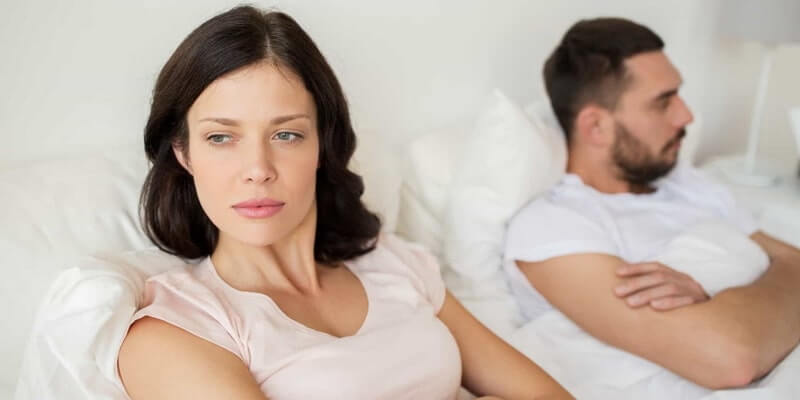 Orgasm is an elementary and natural mechanical reaction of our bodies, which happens to a sufficient amount of stimulation. This stimulation can be physical or emotional. In many cases, if one of these aspects fails, you don't get to the desired climax.
That's why you should learn not to concentrate on the result. If difficult climaxes cause your sexual frustration, it's high time to:
Pay a visit to a psychologist;
Visit your gynaecologist to find out if your body is still healthy and there are no underlying conditions;
Find a sex therapist or a sex coach who will help you to find proper contact with your body and its reactions to sexual stimulation.
Quite a lot of women suffer from the so-called 'anorgasmia', and a significant number of factors can cause this condition. It's naturally harder for a woman to orgasm, and it takes more time. If your mental health is fine, and you don't suffer from the underlying conditions, it's time to talk to your partner and change the situation.
Sexual Frustration: Working with a Partner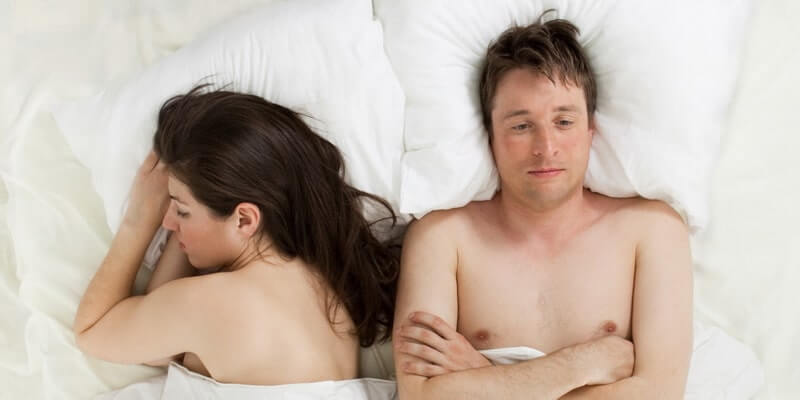 You'll have to find ways to discuss the disturbing issues. If you love and care for each other, but you still have troubles while having sex, it's time to reconsider things. It looks like your needs are mismatched. It's time for an open and honest conversation.
If it's your first-time conversation about sex and it makes you feel awkward, it's normal. Remember that a good start will make your bond firmer.
Never talk about your sexual frustration when you are physically tired, hungry, irritated, or disturbed by something. Create a romantic atmosphere, get a couple of glasses of wine, and relax. It's better to talk about your needs when both of you feel comfortable.
Remember that such words as 'penis', 'cock', 'anal', 'vagina', 'oral sex', and 'masturbation' are not dirty.
Discuss your sexual needs not only with a permanent partner but with your casual relationship partner as well.
Sexually Frustrated People Should Show Feedback
You have to find ways to hint your partner about what you like and about what is unpleasant for you. If you have sex regularly, don't forget about these simple but useful phrases:
I like that;
It feels pleasant here;
Let me show you how to do this.
These little hints in the process of intimacy help you get a better understanding of each other's needs. Never say 'Don't'. Say something like 'I'll show you how'.
Sexual Frustration Often Cause Blaming
A sexually frustrated person tends to blame his/her partner for the inability to deliver this sensual pleasure. It looks like you do everything to please your partner, but you don't get sufficient stimulation in return. However, you shouldn't make your partner feel guilty because it will worsen the situation.
Start with 'I' while talking about your sexual preferences. Speak about what you want without making your partner feel ashamed.
Make sure your conversation is not one-sided and ask questions to your partner. Sexually frustration is a problem that should be destroyed hand in hand.
Don't try to tell your partner that he/she doesn't like you, and this is why you suffer from sexual frustration. It causes more problems in a relationship and destroys your emotional bond.
What Makes a Person Sexually Frustrated?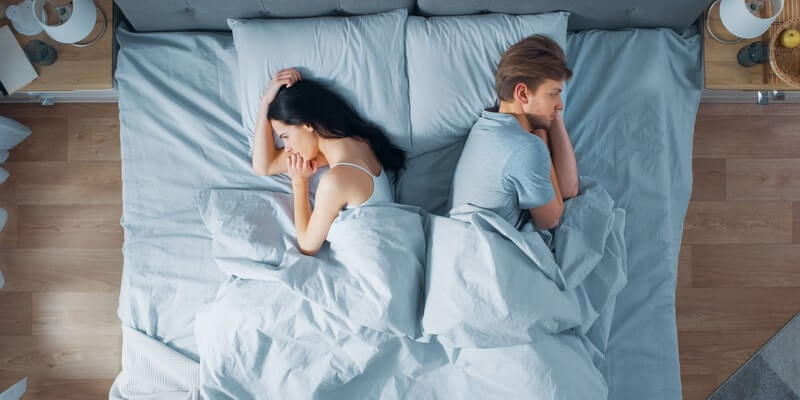 Sexual frustration is common for anyone who does not have enough sexual satisfaction in a relationship.
Your partner might feel too shy to express her feelings and desires. You should talk more to find out about your sexual preferences.
You do not have enough mutuality. Sex is a result of a meaningful relationship. If you are not connected emotionally and spiritually, sexual frustration is an inevitable result.
You rarely share your love and romantic feelings. It's not hard to make your partner feel excited daily through lightweight gestures like compliments, touches, small presents, and love notes.