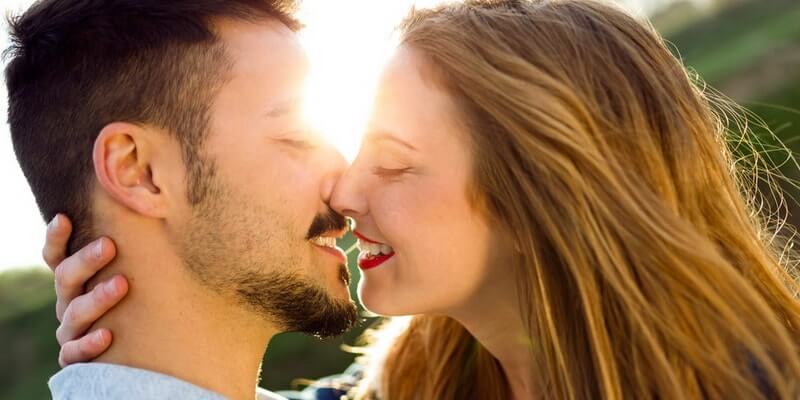 A first date can be an actual burden for a person regardless of gender and sexual orientation. Getting to know each other on a person means a lot at the beginning of your communication. Your further relationship partially depends on how you behave the first time you meet each other.
The worst thing about your first communication means a ton of awkwardness because of the need to show off your best qualities. A kiss on first date is probably the last thing you would consider possible. You'll have to take time to develop a thoughtful small talk and produce a positive impression.
You shouldn't be freaked out too early – kissing on the first date is about many tiny details and rituals. It won't mean tender love or sexual affection at once. Nevertheless, it will demonstrate your romantic predisposition and the desire to get deeper into a relationship.
Share a Kiss on the First Date in 2021: Women's Stories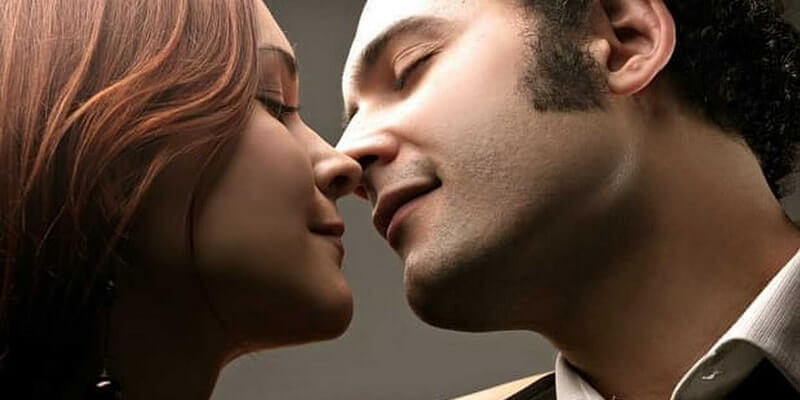 If you're a man looking for some standard protocol to follow when you meet for the first time, forget about it. Everything depends on a woman's attitude and he genuine interest in you. A kiss may either launch a passionate affection from the moment your lips touch or destroy your potential relationship before it starts.
We've decided to share some of the women's impressions about their first date kisses and their attitude to them. It might be helpful.
Kissing on First Date in 2021 May Be Too Intimate
If you regard kissing on the first date as a sort of fetish idea, you should be careful because you may:
Ruin a perfect potential relationship only because of your desire to get into physical contact;
Make a woman think you're hungry for sex, which means that she's more an object than a person;
Insult a nice and promising smart girl willing to find out more about your personality.
A kiss is a very mutual connection, even if we talk about a friendly gesture. There's nothing wrong if you kiss your friend's girlfriend in the cheek to wish her a happy birthday while giving her flowers. A peck kiss even it's in the lips is normal when both of you are good friends, and each of you has a partner by the side. A peck cannot be considered a foremost kiss between the partners sharing the same chemistry.
A first date kiss may seem too intimate even for a woman who feels genuinely interested in you. If you're dating a young girl, and it's the first time you kiss, make sure you're not the first partner of hers. If she's a virgin, she can get worried. It's natural, but you should predict it.
There's a number of ways to demonstrate your affection:
Gentle hugs over her shoulder;
Phrases said in a very low voice attracting her attention;
Regular courtesy signs;
Small gifts and meaningful presents that she might find useful and cute (make sure you know enough about her preferences and needs).
A Mutual First Date Kiss May End in the Bedroom
It's crucial not to get into a forced physical contact when you date in the intimate atmosphere. Especially when you manage to arrange your first face-to-face date in her or your place. Kissing on first date in the intimate atmosphere may lead to unpredictable and unplanned intimacy in the bedroom. Sex is always good, but an impulsive act like this may lead to some uncertainties:
Mutual confusion in the morning especially if both of you were drinking alcohol at night or in the evening;
The unpleasant feeling of the insufficient sexual satisfaction for her – you don't know your potential partner good enough to satisfy her the way she likes it physically;
Her feeling of being used for sexual purposes – no one likes it.
First Date Kiss: Your Best Tactics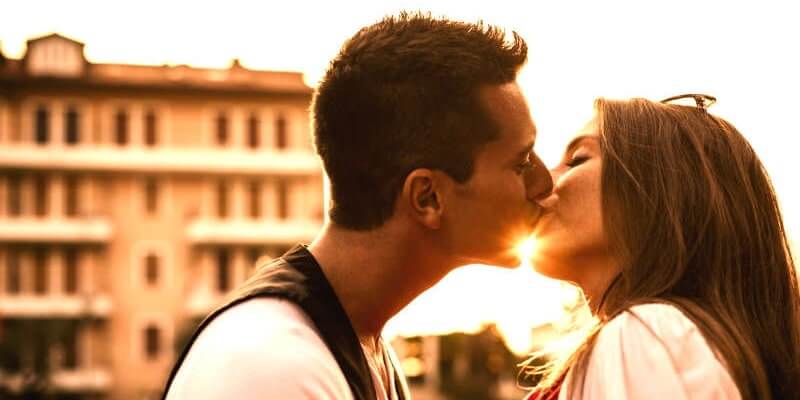 The users of matchmaking resources working with online brides share their opinion on how a reasonable first date should look:
A neat partner;
A sensible and frank conversation;
Warm and relaxing atmosphere;
Tasty foods;
A possibility to discuss anything without being interrupted.
Do you kiss on the first date in 2021? Well, it all depends on a woman you date with for the first time.
If you've been through long conversations about your past relationship experiences and already know that you are not the first man in her life, kissing on the first date is acceptable.
If your online and telephone conversations prove that your current date partner has been through a painful relationship with a no less painful breakup, you should be careful about physical contact in general. In this situation, if a woman is eager to see you, she's already breaking the barriers, don't make her feel confused just because you want to kiss you.
If she's straightforward and light-hearted having nothing against saying dirty jokes in front of you or flirting without any vigour, she will have nothing against a tender kiss. Nevertheless, she can only let you do it for instant pleasure. Women like these are fond of getting new emotions.
A Kiss on the First Date Can Spoil Everything
If you've got plans on a certain lady, you have all chances to ruin them if you make her kiss you. Most women agree that kissing on the first date is like accepting that you have nothing more to surprise them with and look for the shortest way to hook up.
Proper flirting with gentle touches and hugs are more productive;
The seduction process is about half movements – you don't have to be so bold when it comes to kissing, because it ruins the romance;
Kissing is not the essential part of a relationship – a meaningful look can signify a lot more than you think.
It Might Seem Unpleasant
How many dates before kiss should pass? Well, it all depends on the way your potential partner perceives you.
The first kiss you provoke might feel unpleasant to her because you don't have a sufficient amount of trust and physical chemistry;
If you do it with a tongue, you'll add unwanted wetness, which is unpleasant for most of the girls – it's not intimate, it's disgusting for a lot of people;
If you force her to do this, she might consider you rude and imposing, which is no suitable for meaningful lovemaking and a like-minded companionship.
How to Initiate a Kiss on Your First Date?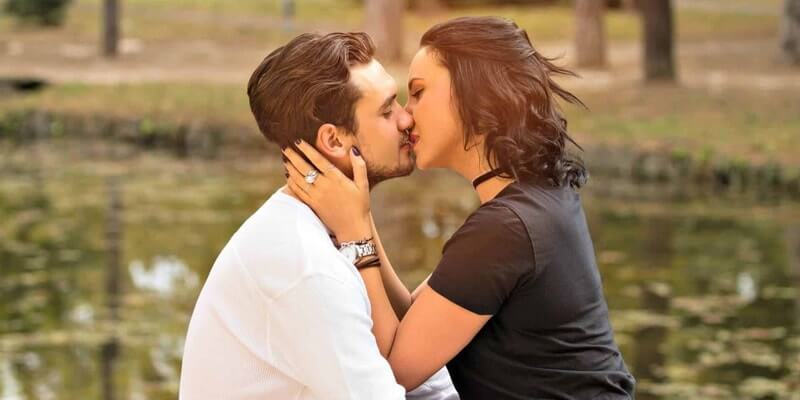 Your success depends on many things:
The way you look on at her lips while you talk;
The amount of physical interaction in the process of communication;
The number of compliments you give your date.
The critical thing about the first date is to be polite in all matters. If you want to hug her – tell her about it. If you're going to peck her on the cheek – let her know about it. If you want to kiss her in the lips – ask her for permission. Being courteous is one of the tastiest ingredients of your first life interaction.
Do You Have to Kiss on the First Date in 2021?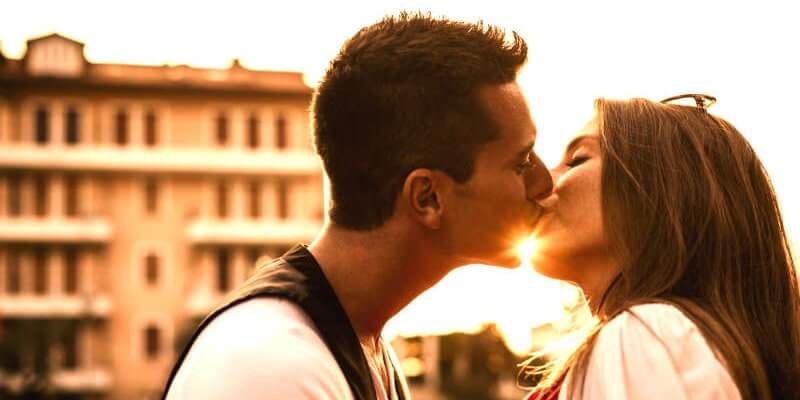 This is not necessary at all, but:
There's nothing wrong with a mutual desire to kiss each other, even if it's spontaneous. Kissing is about sharing positive emotions. Just make sure you are not too imposing about it.
You can start with a gentle peck on the cheek or on the neck. It's hot, a bit sassy, and still gentle.
You can use a kiss as a gesture to establish your further intentions for the evening.
A kiss on the first date is normal if you're up to a casual relationship.