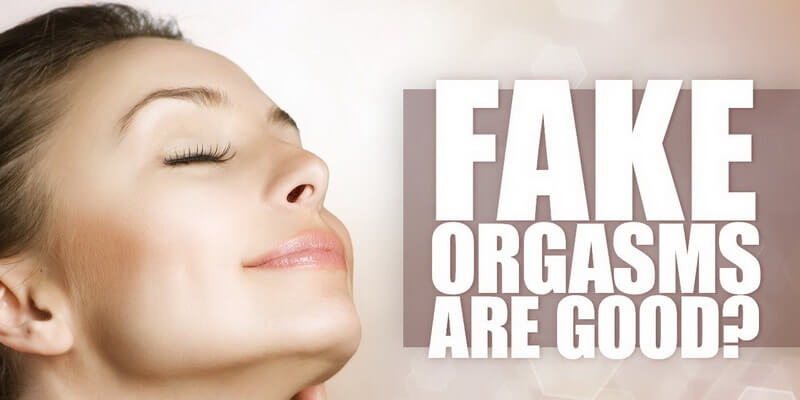 The trouble is that when women don't orgasm, most men behave like its women's fault. Unfortunately, some women were born anorgasmic – unable to reach the climax. It doesn't mean they can't do it at all, it just means that they need another sort of stimulation in addition to the penetrative process. It's hard to talk about it directly, so if you're interested in the sexual satisfaction of your partner, try to start a direct and polite conversation with her to find out the reason. It may happen that she just needs more clitoral stimulation, but you've never thought about that before.
After a fake orgasm, a woman doesn't have vaginal contractions and a resolution phase (that's the point when for a minute or two after an orgasm a woman gets too sensitive to touches). Of course, the second one is personal and may differ depending on a woman, but if you see her screaming from pleasure without pulsations inside, she's faking you.
That's the basic situation. However, there can be more reasons for reflection. So, why do women fake orgasms?
If you don't want to kill a boner (which is equal for both men and women), don't be too pushy repeatedly questioning whether she has orgasmed or not. She may simply get physical pleasure from the process, but if you force her to orgasm, she may be unable to reach the peak next time because of your persistent unwanted questions.
One of the most obvious reasons for women fake orgasms is the absence of foreplay. If you have been apart from each other for more than a month and you feel so horny that you simply don't need it, it's ok. But regular sex needs foreplay for a perfect finish.
You need to be able to take her sexual desires into consideration. Whenever she asks you to get more stimulation here or there, you need to accept it if you want her to enjoy the sexual play. She might have already faked a lot of orgasms and she wants to satisfy her needs in sex.
The last, but not the least. No one knows how many women fake orgasms, but one of the most common things that can be a reason for this, is drug treatment. Quite a lot of medications (especially antidepressants) may have a key influence on the sexual abilities and possibilities of your partner.
The best way to feel mutually satisfied is to ask her about what you can do to change the situation for the better. Making orgasms real can be a lot simpler than you might have thought. Be nice to your woman and she will not lie.