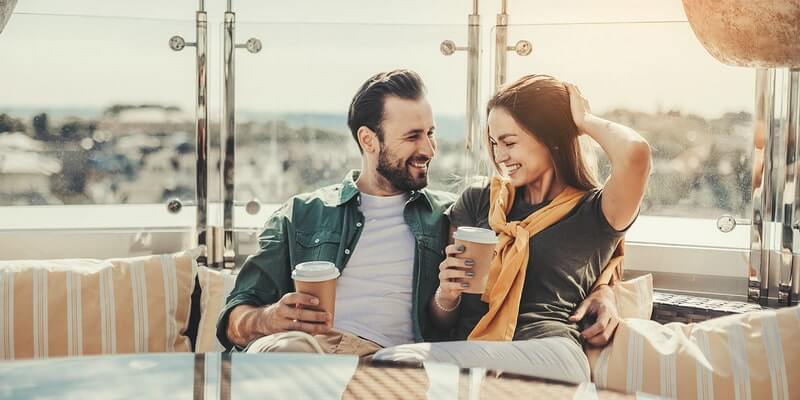 Being friendly or flirting are two different things. Some unexperienced men can't notice the interest on the part of a girl. Phycologists state people don't always read correctly the hidden messages of their interlocutors. It will lead to misunderstandings and the absence of close relationships. Because of our mistakes we can deprive ourselves the best romantic partner or wonderful sex. The conversations between a girl and men is an exciting game. Let's try to be a winner!
If you can define romantic signs and flirt, you will be luckier during the communication with the opposite sex. Many Russian women are too modest and self-respected to say frankly about their interest. Instead of that, they are hinting at this thing. Your task is to understand these hints.
How to tell if a woman is interested or just being friendly
Does she like me or is she just being nice? This question concerns a lot of men. Some women are very polite. They can make compliments and say pleasant things without any intentions. These girls want to make you happy this evening but they don't have much desire to continue the meetings.
To understand if she is flirting or just friendly, you should pay attention to her gestures, posture and the tone of voice. When a girl tells you something, look into her eyes. You can read in them what you need.
It's better to communicate in reality. It's difficult to understand in the Internet if she really likes you. If you don't have this opportunity, talk with a girl via video.
Signs she is just being nice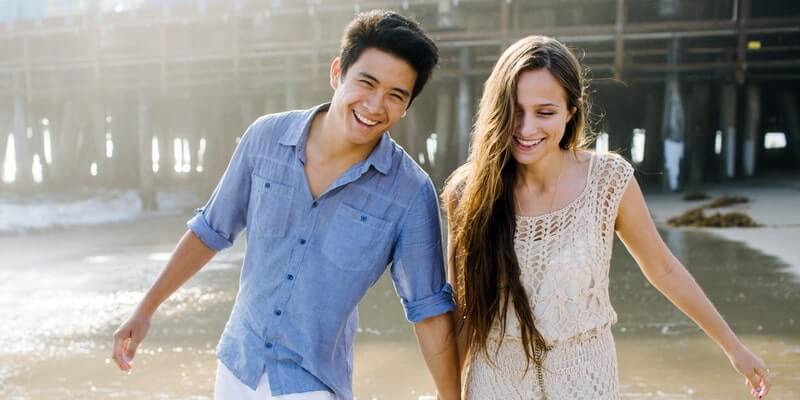 If she's just being nice, you will notice it immediately. A woman won't be interested in the communication. She can show up when you the least expect it and disappear. We will give you some examples that show just a nice behavior without any hidden intentions.
She make «formal» compliments
During the dating online she can tell something about your beautiful eyes or a wonderful view from your picture. After that all compliments finish. In most cases it doesn't mean anything. For some women compliments are the form of communication. They tell them to every man they meet. Just smile and say something nice in response! Is she just being nice or serious? Don't think too much about it. Time will show what you mean for each other.
She doesn't write first
The stereotype about girls who don't write a man first is out-of-date. Now everyone can be an initiator of an interesting communication. Some women are braver. They offer you to spend a night together or to have virtual sex. They mark their goals as soon as possible. Just be friendly with her and you will see what she wants.
If a girl doesn't text you first, she isn't interested in your personality. She can tell you pleasant things and discuss intimate topics, but she isn't going even to meet you face to face. Probably this woman has a lot of other admirers who take her time. Switch to another person who will be more decisive and sociable.
She doesn't want to talk about relationships and gender things
Most Ukranian brides and other Slavic ladies are modest and restrained. They may not discuss sexual topics and frank things. Despite this fact, they are ready to maintain the conversation about relationships if they are interested in you. They want to get married which means they will show their feelings. If a girl drops the subject related to women and men, she doesn't like you. You can be a good friend for her, but not a lover.
You can't agree on the next date
If you have already met in the real life but can't achieve the next meeting, she is not in the mood of flirting. At the same time a girl can keep being in touch with you. She answers your messages and tells about her activities, but doesn't ask anything in return. In this case your interlocutor is only nice to you. She is afraid to offend you. She doesn't want to look rude but at the same time she has no intentions to have relationships with you.
How to tell if she is flirting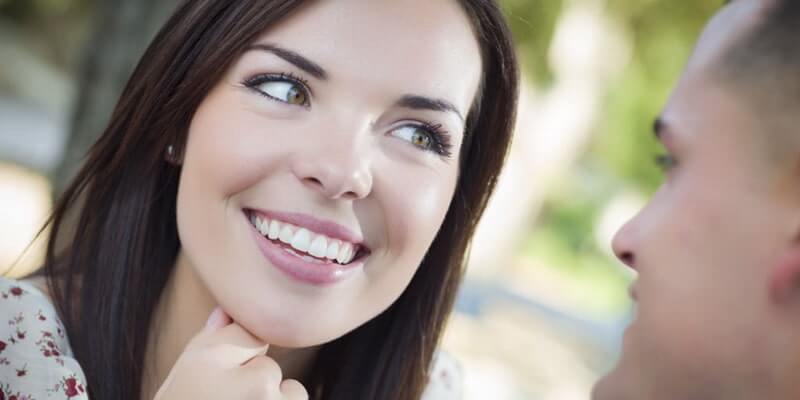 There are signs that clearly indicate her romantic mood. If you see them, you can turn a regular conversation into the best date. You will start relationships or just spend a wonderful evening in the company of a beautiful woman.
She is constantly touching you
If you like a person, you will look for a physical contact. In that sense women are similar to men. During the date she will try to touch your skin or your hair, brush away a speck of dust from your shirt. If the situation is repeated, it's not a coincidence. Is she flirting with me or just being friendly? If she gets closer to you in a physical sense, she is really interested in you as a partner.
She is looking at you all the time
Flirting and mysterious glimpses are the best way to figure out her sympathy. When we like a person, we get used to star at them without turning away our eyes. Sometimes these glances seem impolite, but we can't hold it back. If you notice she is looking at you even if you don't communicate with her, she likes you.
She makes sexual jokes
Is she flirting when she makes spicy jokes? Nothing happens just because when it comes to female tricks. Usually women don't talk about sexual and too intimate things. If she wants to attract you, she can allow herself more. You will hear some provocative jokes from her mouth. This way a girl wants to show you that she is almost ready for something more interesting than just a conversation.
Friendly flirting or serious flirting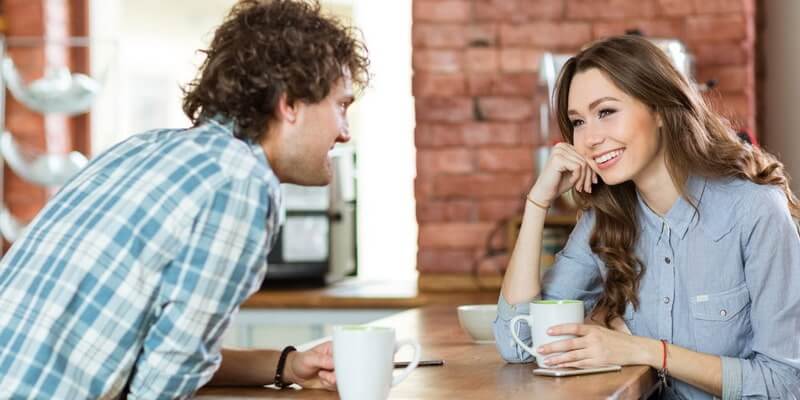 Is she into me or just friendly and polite? Some kinds of flirt can be light and careless. Women make compliments just because of their nature. Sometimes a girl is used to flirt with all men, even if it's her boss. We all love our friends. That's why we do something nice for them from time to time. It doesn't mean anything sexual. We just want to show our care about this person. How to differentiate serious and friendly flirting?
Friendly flirting
In this case a girl doesn't take you seriously. She wants to spend some time with you or use you in her cunning goals. Women often keep their male friends at a distance. Read some examples of friendly behavior that doesn't have any perspective for you.
She looks interested in your life. A girl can ask about your hobbies and activities, friends and work. Sometimes it's just a way to keep the conversation. Women can perfectly pretend that they are interested in what you tell them. If a girl is tactful, she will try not to offend you. Be careful with this sign and don't take too personal her interest. Remember that love expresses itself in deeds, not only in beautiful words.
Is it flirting or serious interest? Look at her behavior. If she makes obstacles for the natural development of your relationships, she isn't serious. A woman can get late on your meetings, sometimes she doesn't pick up the phone for several days. The excessive business is the same thing. You are a backup for this person. She won't have serious relationships with you. It's better to say «goodbye» to this person and open yourself for new people in your life.
She underlines her solitude and unhappiness. This way she hints at the readiness to relationships. But it doesn't mean a girl wants you. Sometimes it's a way to cause compassion and to make a man do something for her. If you spend day and night comforting her and don't get any benefits, it cannot be considered healthy relationships. A woman just uses you as a man who is always ready to sooth her.
She tries to show her off. The attractiveness is the best feature that men fall for. If you notice that a girl shows her wonderful leg or another part of her body «accidentally», she definitely wants to trap you. But so far, we don't know her goal. Maybe she really wants serious relationships. Maybe she just amuses herself out of the boredom.
Serious flirting
Does she show up at the same place where you are? Does a girl agree on any meeting with you even if she is busy? It's a prominent sign of her serious attitude. She is interested in serious relationships and wants to spend with you as much time as possible. If your feelings are mutual, appreciate this readiness. You can make up a lot of interesting activities for your exciting leisure. One day we can just drink a cup of tea, another day it would be nice to go to the cinema or just to spend this time at home, in a cozy bed. We both will build your relationships and fill them with joy and pleasure.
Another sign of serious flirting is her support. If she tries to make your life better, help you with your everyday routine, she has serious intentions! These supportive girls will be good at romantic relationships, because you can count on them at any time.
Serious flirting on the part of a woman includes conversations about wedding and a family. Remember that ladies don't hold this subject just because!
Are you good at detecting flirting behavior?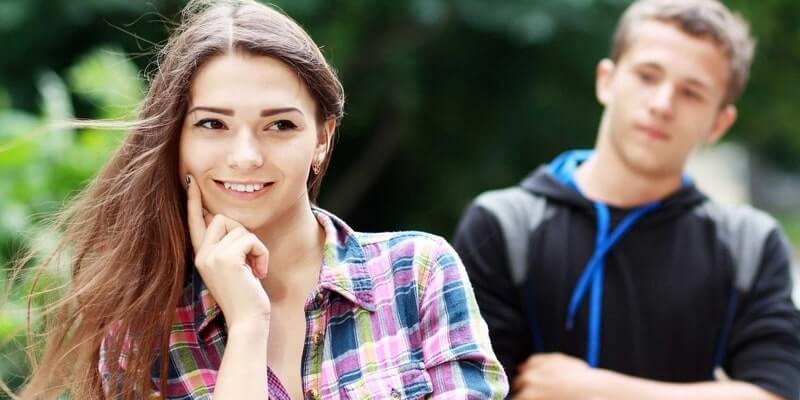 We can ask ourselves: Was she flirting with me or is she indifferent to my feelings? These concerns are common for unexperienced men who rarely communicate with the opposite sex. We will give you some interesting facts about it:
Men and women make mistakes. The majority of people aren't able to recognize flirt. Only 18 percent of women figure out that a man gives them a special attention and wants to have romantic relationships with them. The rest of ladies take it as a friendly attitude.
People are good at recognition of the absence of flirting thoughts. About 83 percent of ladies are able to detect the situations where a man isn't interested in them from the beginning. The same goes to men (84 percent of them don't make mistakes in the recognition of indifferent behavior). It's easy because we know when a person doesn't care about us.
The correlation with the physical attraction. The more we like another person physically the more we are flirting with them. We don't tend to flirt with a person who isn't attractive for us. In this case the communication will turn into formal contacts without any friendliness.
Being flirting or friendly doesn't requires a lot of efforts. Some compliments we say without a second thought. That's why it's important to analyze the behavior of another person, look at their attitude to you, nonverbal reactions. Before the real dating it would be nice to talk with a person via video. This way you will understand the intentions of your partner.
Is She Friendly or Flirty?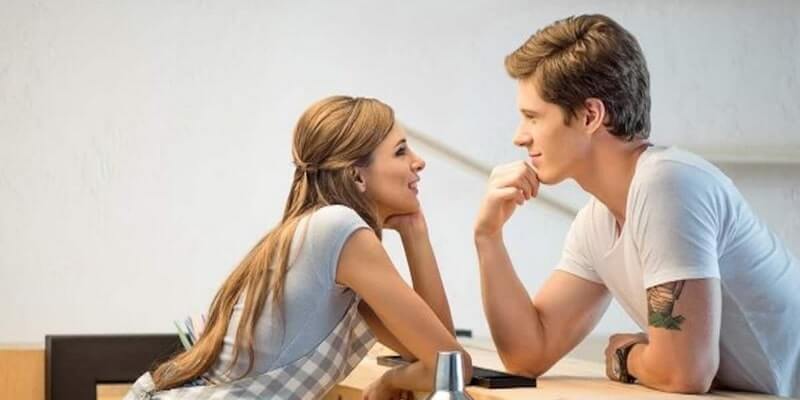 Sometimes it's hard to differentiate between a friendly attitude or flirting. Here are the signs a girl is flirting with you:
She stands close to you in the crowd of people looking you directly in the eyes while talking;
She texts you a goodnight message after a party, even if it's been a meeting of friends;
She tends to hug you and touch unpredictably without any reason;
She never expresses nervousness if you call her – even if she's busy, she will find the polite words to explain that she's not ready to speak but has nothing against you calling a bit later.