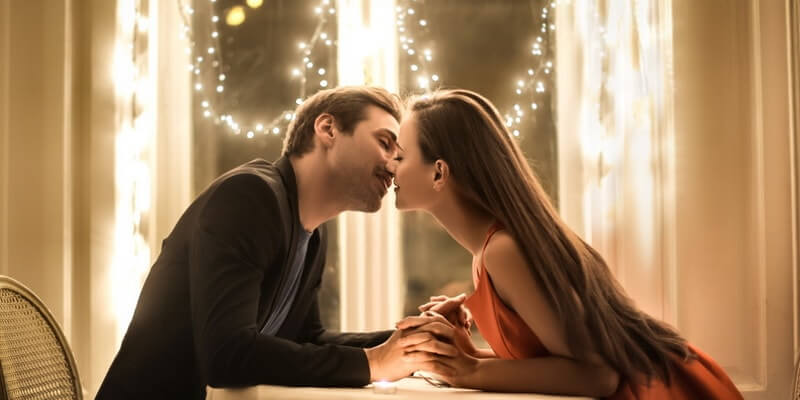 Biologically based that any species of animals has own rituals of nuptial rituals, including attire and behavior. Human is not exclusion of this rule. This biological mechanism provides:
Correct choose of potentional candidate for reproduction;
Possibility to reproduct for strongest and healthiest organisms.
The main features of the nuptial behavior of different species are close and include:
- ritual of feeding female;
- showing her ready for family life nest or hole;
- attracting her attention with different interesting things – coloured fruits and stones, gleaming metal things;
- ritual battles.
These rituals show to female that male is ready to reproduction, that he is the best and strongest if can attract her attention and hold it, that he is enough worthy and smart to feed her and a progeny.
If to consider close, the women of Homo Sapiens species during the romantic period of a relationship get:
Convenience that a man has serious aims and not only plays a game;
Information, got by nonverbal way that he is ready to spend own resources and strengths for her and their children;
Time to recoghize potentional partner closer.
Nuptial rituals provides for both possibilities to introduce closer. Information about new object in the sphere of interests for Russian women is analyzed subconsiously and compared with other candidates. Also, the man looks at her behavior during the first period of communication, And it is a time when they both have possibility to decide – do they need each other or not.
Ukraine women the same as Russians like romance also, because it is the promising of love. Organism of a woman attunes to the act of reproduction during the nuptial ritual and provoked with the hormones activity she is ready for love.
The tradition to gift Ukraine women pleasant things, which can make them glad or even happy – it' s a trick of mother Nature which is close to suggestion. A subconciousness of Russian woman takes as a custom presence near a concrete man and pleasure connected with this fact. The aim of man in this time – really to give her glad and pleasure. That is why even gifts traditionally are candies and fruits – sweet food which provokes happiness-hormones production.
So, when you choose Russian bride – pay attention to advice of professional psychologist of the russian women dating agency and remember – magic of love is a result of planned suggestion with a blessing of mother Nature.