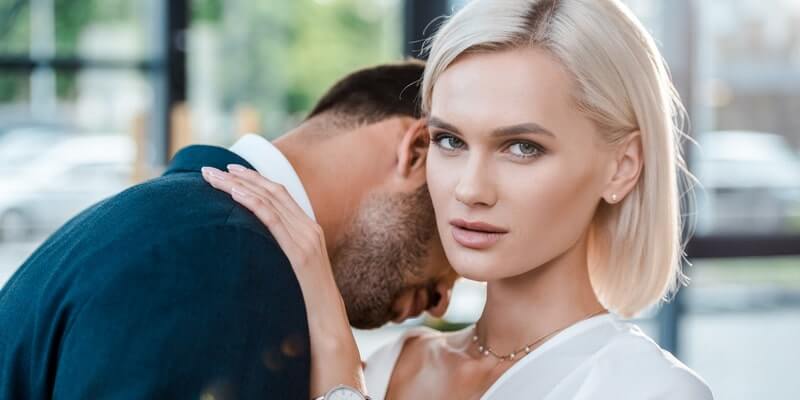 We all want to make a good impression with our crash. If you are able to flirt, it's a key for your success. Flirting techniques are variable, but most of them require some efforts and preparations. Luckily, everyone can be good at flirting, you just need some practice. Dating single women is the way to practice on people. On our website you will meet a lot of pretty single girls who like to flirt. They will chat with you effortlessly, so you will have a good time online.
Let's talk about flirting tips that will help you to be popular amongst women.
Flirt tips in 2023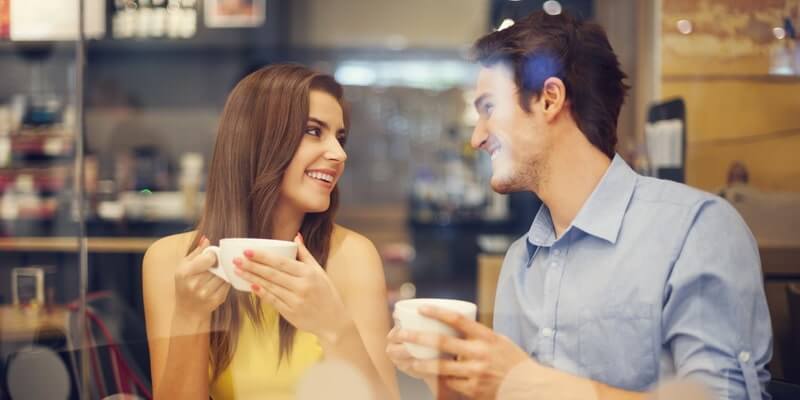 There are a lot of flirt tips for men, but the most importantly, you should be yourself. Be natural and don't pretend. If you play another person, a girl will read it immediately. They all hate false, so don't try to lie.
At the same time, flirting is a game. How to play it? How to show that you are interested in a person?
How to flirt with a girl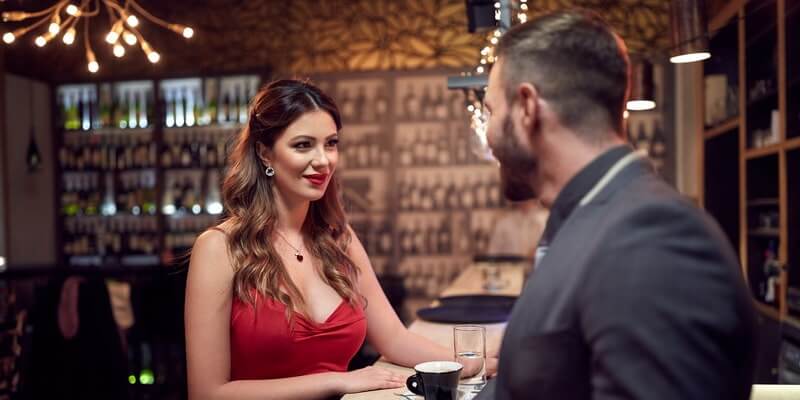 Flirting with women is a tricky thing. You need to be courteous, gentleman, funny and active. But once you overdose it, you will irritate a woman. Some ladies are shy, so if you flirt actively, they may think you are vulgar and intrusive. We will give you some flirting tips that will help you in dating.
Make up original compliments
It's one of the best flirting tips for guys. Girls love with their ears. If you say something nice, it will melt her heart. But your compliments shouldn't be banal. Think about what you like about them. What does catch your eye when you are looking at a girl? The more specific you are, the better. Gils love when you are taking note of little things. Don't overdose with compliments, otherwise she will get tired of it.
Remember the small details
Being engaged in dating is a key. When you meet Asian ladies online, pay attention not only on their appearance. Memorize everything she tells you. Ask her more about details. Over time, you can impress her with your perfect memory and the knowledge about her habits and preferences. This flirting basics will help you to get to know a girl better, to be closer with her.
Make her laugh
If a crash laugh at your jokes, she definitely likes you! Learn something about a good sense of humor. Make a small joke from time to time, it will help to keep the mood light. Make sure she likes these jokes. If her smile is tense, probably she smiles out of politeness.
Use body language
Body language is one of the most successful flirting tricks. When you initiate a physical contact, keep it short enough, otherwise your crush will feel uncomfortable, especially at the beginning of the dating. Don't allow sexual touches on public. Make sure your partner doesn't feel awkward. You can hug her a bit or hold her hand during the first date.
Smile and be friendly
Simple flirts imply smiling. Don't go on a date if you are in the bad mood, you will spoil everything. Remember that it's not another person's fault if you feel bad. Be friendly and sociable. Keep the eye contact and smile. If you are happy, your crush will catch it.
Be confident
Shyness is cute but some girls get tired quickly if a guy is timid and insecure. We will give you some flirting tips to look more confident. Talk more. If you don't know what to talk about, make a list of topics in advance. Take care of your style. Sometimes the absence of a button on your shirt can destroy the confidence. Consider your crush a regular girl. We all have our plus and cons, so don't make her saint.
Be polite
Flirting ideas are good, but sometimes you can attract a woman with your politeness and chivalry. Pull her seat out or hold the door when she is entering. It will make a girl feel special.
Use these simple gestures for strangers, it will also impress your partner. For example, you can hold a door in front of an elderly lady.
How to flirt with a guy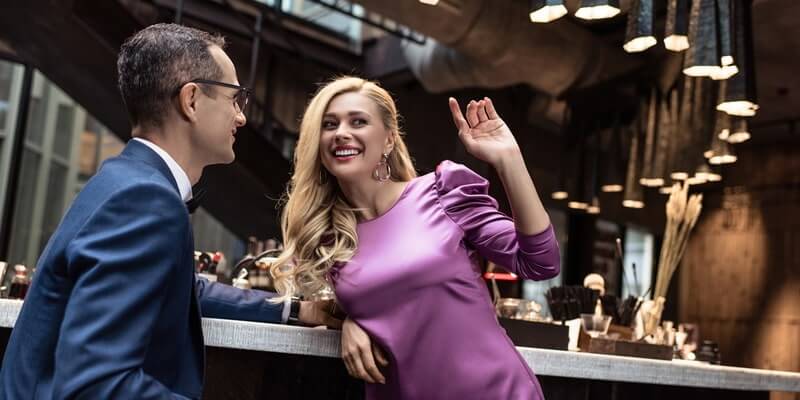 Flirting tips for girls are different. Women are more restrained, besides, it's common for men to win their heart, not the opposite. That's why female flirting is more elegant and delicate. Let's talk about some flirting tips that will help you to attract any man.
Tease a guy
Flirty women are teasing. Men like girls with a sense of humor. Gentle jokes will help you to make a date more relaxed and less stressful. Keep the things lighthearted. Don't mock a man. If your jokes are rude and offensive, you won't have another date to fix the situation.
Don't forget about body language
Single Ukrainian women know how to use it. It doesn't mean vulgarity. We aren't saying you should throw yourself at a guy. Don't do anything that will make you feel uncomfortable. You can touch his arm or keep eye contact. Improve your flirting skills if you are too modest and shy. Date often and meet with different guys to practice your flirting! Over time, you will use body language effortlessly.
Play hard to get
There are different ways to flirt. The oldest trick is playing hard to get. You may think it's out of date, but it works perfectly on practice. Let a guy please you. Don't be available all the time. If you always write first or if you rush with sex life, a guy won't be interested in you. Remember the rule about a hunter and his pray.
Take care of your appearance
It's obvious flirting tips for woman. Men adore beauty. Forget about sneakers and jeans unless you go to a picnic. There are a lot of gorgeous dresses and suits you can wear to impress him! If you use a perfume, choose something light and seductive at the same time, don't overdose it.
Be yourself
Sometimes women are shy and insecure when they see their crush. It will lead to unnatural behavior, false laugh and other things that are very noticeable and unattractive. One of the ways of flirting is to be yourself. Don't do anything that is uncomfortable for you. Sometimes it helps if you confess you are shy a bit. Don't think a man will laugh at you. Honesty is really cute.
Simple flirts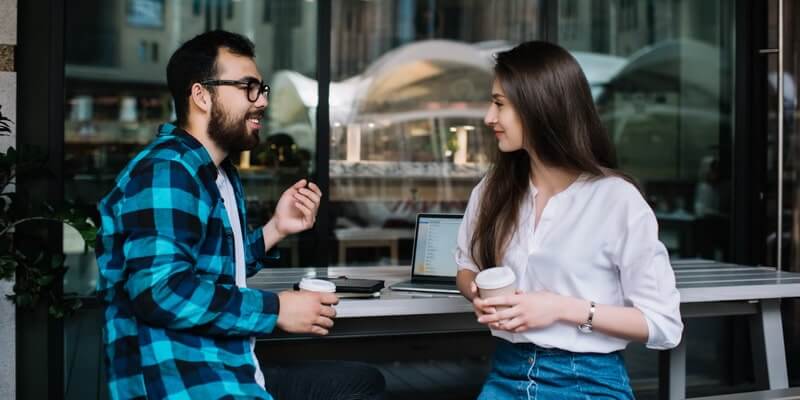 Some people think that flirt is kind of art. But in fact, everything is simple. You don't need to put a lot of efforts to look attractive and seductive. Every person knows how to flirt and our flirting tips are just an icing on the cake. How to flirt with girls and guys effortlessly?
Make a list of topics for your conversation. Include something intimate enough in your list, otherwise your partner won't understand you are interested in them in a romantic way. Making this list you will avoid awkward pauses during your date (long pauses are bad for flirting).
Be gentleman if you are a man. If you give your lady some flowers and chocolate, it will be seductive enough. Even if you can't play, gifts will always work.
Don't be shy. If you are timid, try to chat online more. One day you will be ready for a real date. Sometimes video chats help. This way you don't need to put a lot of efforts and to change the scene, but you can see your partner.
If you are from different countries, learn some compliments on her language. It will please and impress any woman!
Be romantic. Wish good night and good morning every day, take care of your partner's health. Sometimes it's more valuable than cheap flirt.
Don't try to make her jealous. Some people who are bad at flirting try to meet with other girls or men to make their partner jealous. It's forbidden. This way you will ruin any relationship. Be honest with your crush and don't try to cheat on.
Don't be intrusive and respect boundaries. Don't write her every minute even if you are in love. Try to be more restrained. Wait for her initiative. If she never texts you first, our flirting tips may not work.
Don't wear too explicit clothes. Vulgar heels and skirts aren't good for flirting. You will look cheap and needy in such suit. Better try to attract a man with your intellect and soul.
Learn where to stop. Don't confuse normal ways of flirting with harassment. If you see a person feels uncomfortable, better stop active actions. Sometimes it's better just to stay friends and chat from time to time. Don't be upset if your crush doesn't give into your flirting. Some people aren't compatible and it's fine. Find other options and move forward to.
Define the reason of your flirting. Some people want to find sex only this way. But if a girl is smart enough, she will notice it immediately. If you don't want serious relationships, better tell about it as soon as possible.
The conclusions
There are a lot of ways of flirting that will help you to win women's hearts. You can give her something or say some compliments to break the ice. Sometimes it's better to impress a girl with your activities and purposes. If you are an ambitious man who has a good work and pays a lot of attention to self-development, you will be attractive for the opposite sex.
In any case, you need to be yourself. Don't try to pretend someone and don't lie your crush. You can play a bit, but don't overdose with flirting. If you are afraid of something, say it frankly. There is nothing bad about being shy and anyone will support you if you have some problems with conversations.
On our website you will meet a lot of girls who are ready for flirting. Chat with some of them to have fun and to find someone who will be your love. Don't be shy and say something nice: most of women are friendly and sociable, so they will maintain a dialogue. After online chat you can ask someone out to do some practice with flirting. Create your profile and start looking for girls for romance and flirting. Don't be upset if you don't meet anyone compatible the first days: keep chatting and you will get everything you want!