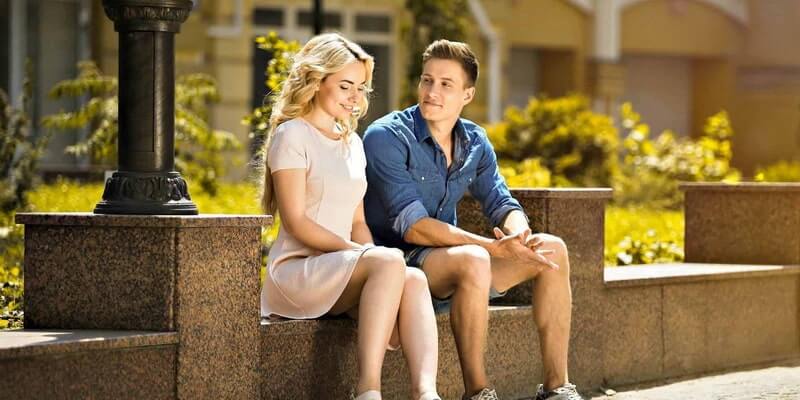 How to know if a first date went well? It's a difficult situation since women are mysterious and restrained creatures. They will never tell you frankly they are interested in you and want to go on the second date. It causes the load of question in our mind. The main question if you both are equally eager to meet again. Your intuition tells you everything went well, but is it really true? Can you count on the second date and close relationships? There are numerous ways to figure out that.
What is a good first date in 2021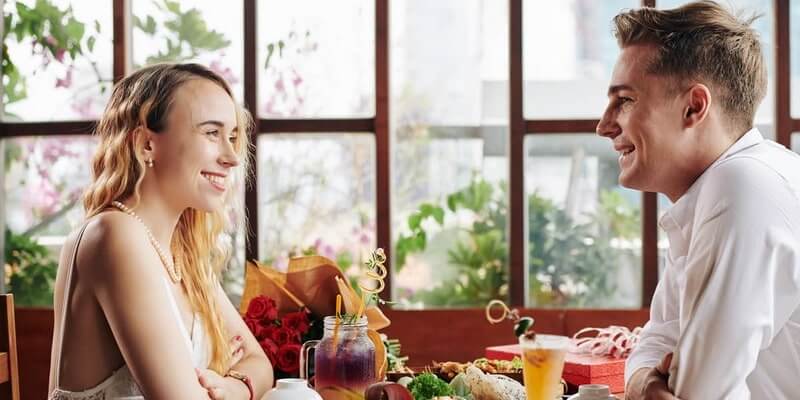 The first date is a significant event in your life. Some people compare it with a job interview. You either achieve your goal and persuade everyone about your impeccable image or you screw it up and will have to go home looking for another variant. If you go on a date, you are waiting for the continuation and romantic relationships. However, you can fail. Everything depends on your behavior, words, compliments and the organization of your meeting. Of course, you should be relaxed and look naturally during the communication, but there are some things you better to think about in advance.
One of the signs your date went well is your second meeting. Try to write her the next day after your first rendezvous and offer her to meet again. If you discuss the time and place, everything was perfect. A good date is filled with positive emotions. If you both laugh and smile, you are going well with each other. Awkward pauses are normal for two unfamiliar people but they shouldn't be too long. If you find new subjects for your conversations effortlessly, you have a wonderful date.
How to have a good first date in 2021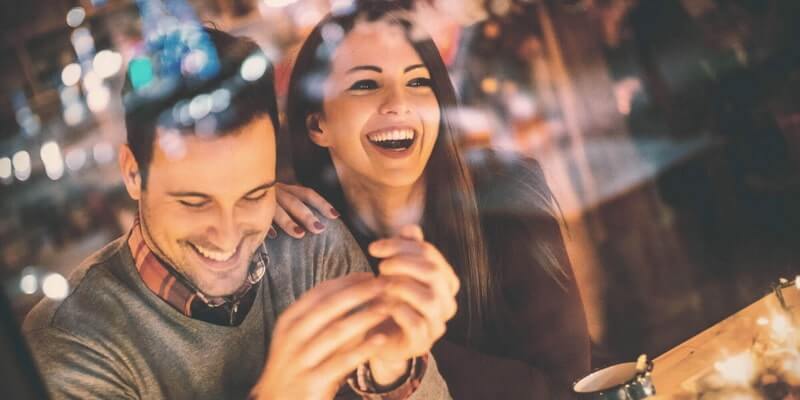 If you look for girls online, you should know the rules of communication in the Internet and the rules of the first meeting. Your task is to organize everything so that a lady will feel comfortable and safe. We will give you some tips that will help you to prepare yourself for this important event.
A right place
The first day has a specific solemn and exiting atmosphere even if you decided just to go for a walk. That's why you both should choose a proper place. An optimal variant is a cozy restaurant or coffee shop. You will have nice time there, drinking coffee and eating cakes. After a couple of hours of communication, you will decide what to do next. If you don't like the date, you can go home without any worries. If you have the first date with a woman you fell in love with, you must impress her. Going to the cinema isn't a good idea for it. You should choose a really original and nice place. A cozy restaurant with delicious dishes will be a proper variant. There you can talk to each other, drink some wine and become less nervous. Also, you can go to an amusement park. This is a great idea for a good weather and a young couple. You will get a lot of positive emotions and enjoy each other. The best way for the first meeting is a combination of places. Some active people find it boring to spend time only in a certain place. You can eat something in a restaurant and after that to burn all calories walking in a park or making love in a nice hotel, depending on your temper and goals.
Your appearance
Your look is very important for the first meeting. When you date Russian women, bear in mind that most of them are obsessed with nice clothes and well-groomed men. Your style should be impeccable. The first impression is the crucial for the future with this lady. You must be aware how women prepare for romantic meetings. They can choose a right dress for hours, put make-up and make a difficult haircut. They expect approximately the same from their partners. That's why your suit shouldn't look too casual. You can choose smart-casual style. Remember that your clothes must be clean and ironed.
Good manners
During the date your behavior will be in the spotlight. First of all, you should control your speech. Illiterate phrases can drive her crazy, especially if she is a specialist of philology. The same goes to bad language and swear words. Many Slavic women are a little old-fashioned. They will be admired the simple and romantic gestures. Help her to get out of the taxi. Kiss her hand when you tell her something pleasant (better to do that in a cozy place, for example, at the table of a restaurant). Give her a nice bouquet if you don't make plans for a long walk. Open the door for her and let her enter the hall first. Offer her your arm when she has to step over a puddle or something. You will look like a true gentleman in her eyes. Even if you find out that you don't really like this girl, be polite and courteous.
A lively communication
The first date is full of communication. You are trying to get to know each other, to reveal as more facts as possible about another person. You will think about the next meeting based on this information. That's why your communication should be a dialogue. It's similar to ping-pong game. You ask about something, she gives a detailed answer and asks something in return. This way you can follow the dialogue without tense pauses. It's important what kinds of questions you ask her, if you look interested in her personality. When we are nervous, we can get lost into communication. In this case it's recommended to make a list of interesting questions in advance. Memorize them and ask choosing a good moment.
On the other hand, throwing the load of questions at your partner isn't a good idea. The first date isn't an interview, it's a nice and free conversation. Your phrases and questions should come out of your mouth naturally. For example, you can tell her a curious story and ask her something related to that. Imagine that a dialogue is a slow and calm flow that should move effortlessly. Your task is to maintain life in this flow. Sometimes you will face pauses during your interactions. In this situation calm down and smile. Look at the things surrounded you and tell something about them. This is the best way to keep the communication.
Signs a first date went well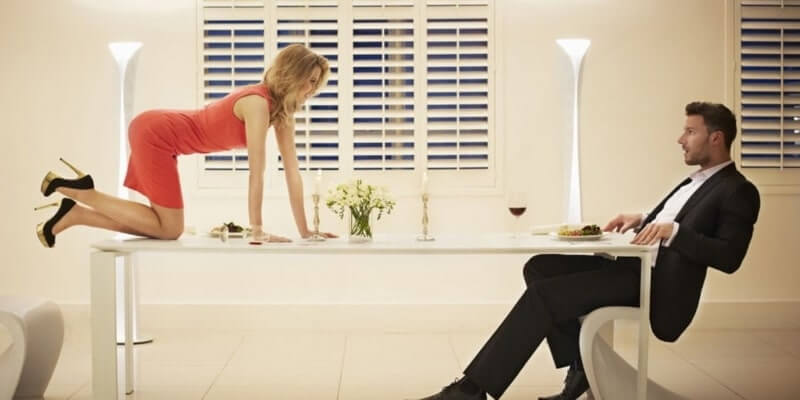 The good first date is the beginning of something meaningful and serious. Sometimes it can turn into serious relationships with family, marriage and children. Sometimes it will lead to the next pleasant meeting where you just have fun and spend time together. In both cases you should know about the main signs of a successful date. It will help to understand if you have any chances for the communication with a pretty lady. Most of these signs you can notice and decipher during the meeting. Back home, analyze her phrases and behavior. This way you will find out if she really is interested in you or it was just politeness.
You will like each other from the beginning
Usually we need only several minutes to make a common impression about a person. After exchanging several questions, you will understand if everything is all right. It's your duty to make the atmosphere comfortable for her. If she looks friendly and smile you, there is a strongly likelihood that your date is successful.
Common interests
One of the signs a first date went well is your friendly and playful communication. Usually this happens when you have a lot in common. Don't be shy and tell her what you like in this life. If it turns out you have common interests, discuss them in details! After that you can count on the second date. Having something in common, you will have also interesting and lively dialogues. Over time you won't want to lose each other.
The deepness of your conversation
Pay attention on topics that you are discussing. Some of them should be profound and meaningful enough. If you talk only about the weather or things that surround you, your date won't be successful. Another common problem is the long silence. Either she isn't interested in you, or she is too shy and isn't able to maintain the interaction. In both cases something goes not very well and you should think about the improvements of this situation.
Is she enthusiastic enough?
If a lady enjoys the date, she will be focused on you and your reactions. Do you see how many times she looks at her phone or at her watches counting minutes to the end of your date? If she is into her phone or looks absent-minded, she doesn't care about you. Does she keep her device into her bag for the whole meeting? A woman definitely likes you and counts on the second date!
She is initiative
It takes two to tango which means you don't have to take all burden of the communication in your hands. Let her be initiative too. She can introduce new interesting topics and ask you about your life, job, friends and previous romantic relationships. Sometimes these questions can be too frank which means she is interested in you as her sexual partner. A well-experienced woman knows how to make the conversation comfortable for both parts. If she just answers your questions and doesn't offer anything in return, she wants to go home as soon as possible.
Happy laugh
If you want to date Ukrainian women, you will get a lot of joy and positive emotions, because these ladies love to laugh and smile. The single exception is the absence of sympathy. Humor is a phenomenon that reunites people. If a man and woman have a similar sense of humor, they will get along well. This feeling creates strong bonds. Constant smiling is an indicator of attraction. If a girl likes her partner, she will smile and laugh even if his jokes aren't really funny. The cause is the synthesis of the certain hormones that are common for people who are in love.
A girl made an eye contact
When we like a person, we want to look into their eyes as long as possible. Sometimes we are ready to get lost into these eyes. Most of women are very susceptible to non-verbal interaction. It's not a problem for them to make an eye-contact. It will be perfect if she smiles when looking into your eyes. If a girl constantly turns away her glance, she can be bored or too nervous. Some shy people prefer not to look into the eyes during the conversation, that's why you shouldn't judge her.
She doesn't mind the physical closeness
Sexual partners touch each other and enjoy this wonderful feeling. If a woman wants romantic relationships with you, she will achieve a physical contact with you. It doesn't mean she will offer you to sleep with her right now. But she can hold your hand or tuck your hair behind the ear. A girl can assess your nice t-shirt and touch it «accidently» giving the compliment. She won't mind if you put your hand on her waist. All these contacts make your date exciting and illuminating, they give hope for a happy continuation.
You both want the next meeting
Often, you can see her readiness in her eyes. If you aren't really good at understanding hints, ask her frankly about her feelings and intentions. Brave men can do it face to face, during the first meeting. It's hard enough, but this way she won't have any possibility for lie, because you will look into her eyes. If she answers she is ready to continue your relationships, your first date is successful.
Signs of a bad first date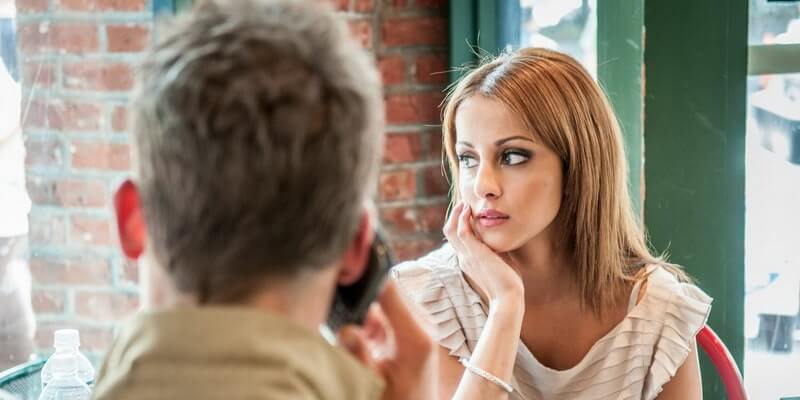 Unfortunately, sometimes romantic dates will lead to nothing. People can't find anything in common and decide not to continue the communication. Even if a man was interested in relationships, a woman can think otherwise. In this case better to stop any attempts to achieve the mutual feelings and leave this person alone. Using dating apps, you will definitely find someone who will appreciate your attitude. We will give you bad first date signs that you should notice during the first meeting or after it.
She isn't excited
The indifferent attitude speaks volumes. If she likes you, she will be a little nervous and shy from the beginning. It's absolutely normal even for confident girls. When she doesn't care about you, you will feel complete indifference on her part. The lack of excitement can be common for both parts of the process. If there isn't any spark between you, better to say goodbye to each other.
Long pauses in the conversation
If one person tries to fill the conversation with interesting subjects and make a girl more communicative, it doesn't always work. Often a girl gives you one-word answers and doesn't ask anything in return. Sometimes it happens that you have already discussed all formal subjects, for example, the weather and your pets. After that you have nothing to say. It means your date failed. The reason of this failure is the absence of common interests. People can be absolutely different, without any spots of compatibility. In this case it will be better not to invite a woman to meet again.
She uses her phone all the time
How to tell if a first date went well? She doesn't remember about her phone and social media; she admires you and your stories. If she permanently checks her Twitter or Instagram, chats with your friends or just look at the screen from time to time, she doesn't have anything serious towards you. It's obvious that social medias became a part of our life and many people spend a lot of time commenting publications and looking at the pictures of unfamiliar people and bloggers. Despite that, it's impolite to be in your phone in the middle of a lively conversation with a person from the real world. You don't need a girl who doesn't respect you. No need to explain her everything about her inappropriate behavior. Just make the conclusions and move on.
She talks about her ex-lovers
This sign can be revealed not only during the first date, but also after several meetings. Moreover, some girls start making comparisons between two people. If she regularly mentions her ex-partner, it means she still has feelings about him. They can be negative or positive, but what's the most importantly, that he is still in her mind and there isn't any place for you. Going on a date, people should be open for new relationships. It's better to leave your past and devote yourself to a new partner. You shouldn't mention about your ex-lovers either. Most of ladies wouldn't be happy to hear it. Don't talk about them using negative words. For a girl it's a sign for finishing the communication. If you think about your ex-women in a bad way, you will think the same about your new girlfriend. It's a matter of time. Your relationships will go well until the first conflict.
The mockery of your interests
People build relationships based on common interests. If they love the same movies or the same places for travels, they will be together for a long time. If they are completely different, it will be hard to maintain the interaction. You will have to talk about different things and go on vacations to different places. Most of your time you will spend separately. These relationships don't make any sense. Even worse, she can start mocking at your preferences. Some girls believe sport and action movies are for stupid people, fishing is a boring and uncomfortable activity. We can't always share people's experience. Your girlfriend doesn't need to go for fishing with you and spend a lot of hours looking at the water surface. At the same time, she must respect your interests and hobbies. She should ask you about them, take care of your comfortable leisure and be happy about your success. This rule works the other way around. Pay attention to her interests and leisure. Try to understand some hobbies even if they look incomprehensible and strange for you. Don't laugh at her preferences and don't choose offensive and condescended tone of voice for discussion of them.
She avoids any physical contact
When we are interested in a person, we try to touch them as much as possible. A woman can brush away non-existent dust from your shoulder or hold your hand when you are crossing the road. Some ladies are too shy and old-fashioned. They won't kiss on the first date and they aren't ready for making love during this meeting. Don't judge it and respect their mindset and traditional values. Despite this fact, there are so called sociably acceptable touches. Holding hands, kisses her cheek are completely decent. This physical contact is suitable even for a shy girl. If she doesn't allow it, she doesn't like you at all. She can consider you a good friend, not a sexual partner. Another reason she doesn't allow you to hold her hand in a public place is her infidelity. A lady can have a boyfriend. In this case she is afraid someone will see her in your company. Better to meet with a woman who has transparent intentions.
She says goodbye very fast
The first date shouldn't be very long. For two unfamiliar people it's unnecessary to spend for hours together. An optimal duration of the first meeting is 1.5-2 hours. However, sometimes a girl wants to leave you after 30 minutes of communication. Often, they choose just a walk in the park to have the opportunity to say goodbye at any moment. These fast farewells mean she didn't like you. She can tell you she is tired and want to go home. Some girls make up different pretexts to leave you. Her iron can be suddenly broken or she can forget to turn off the lights in her apartment. If a girl is resourceful, she will agree with her friend to call her at the certain time to have a good excuse for leaving you (for example, this friend can ask for her help). If you are in love, you want to spend with an object of your passion a lot of time. That's why when you feel the lack of mutual interest and want to get rid of this woman, there is something wrong with your date.
The first date went well: what's the next step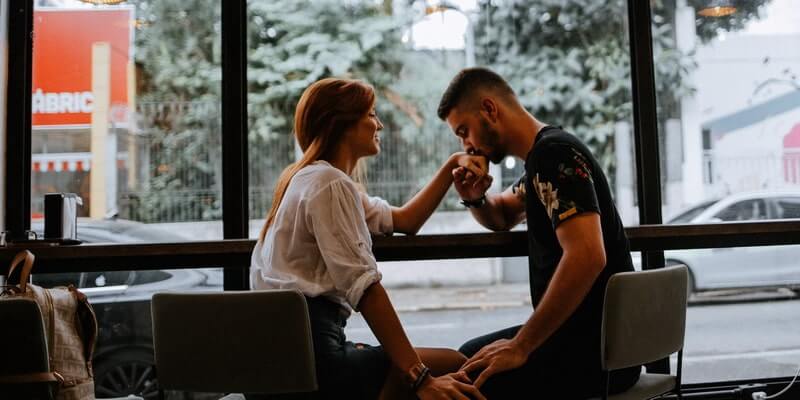 So, you saw the first date signs she is interested. What to do next? The main rule is to follow your hurt. If you are falling in love with this woman, your emotions will be a good assistant. Some experts recommend not to call nor text her during the first three days after your meetings. This way a girl won't feel your extreme interest that makes you more important in her eyes (we always love a person whom we are afraid to lose). But put yourself in her shoes. Could you wait for her message if you like her? Would you have doubts about your attractiveness and the first impression she got meeting you? Don't make you suffer and write a nice message after several hours. Say that it was very pleasant to communicate with her and you would like to meet her again if possible.
If you feel that the first date went well and we both are happy, don't hold it back. Express your care about her. Ask, if she get home safely. Make some compliments right after the meeting. Text her about the wonderful dress or her pleasant smell. Underline that you can't wait for your next date. Send her the list of movies you would like to watch together. She will be happy with your attention.
The next step is the second meeting. You should look perfect as well. Even after several years of relationships, it's unacceptable to forget about the appearance and neglect the personal hygiene. The second and subsequent meetings can be related with more intimacy and closeness. You can kiss each other or make love; everything depends on chemistry between a man and woman. your task is to get to know a woman better during the first several meeting. Try to find out her drawbacks and negative traits that can be critical for romantic relationships. Ask her about her goals in the future. If you have different expectations, it's better to finish the meetings as soon as possible to avoid disappointment and the pain of love when you get used to each other.
Was your first kiss good enough?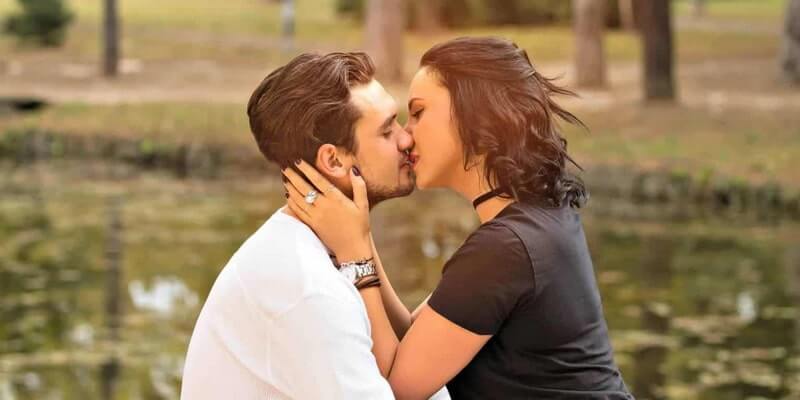 A kiss is a sacred and amazing moment. Sometimes it can be a real test for your relationships. After this process you will understand if you like this girl and if she likes you. Some couple make this test on the first date. It's not bad if you both are ready for this step. We will give you some signs of a successful kiss:
Your partner can't help touching and kissing you. In this case your kiss will last for a long time. Lean back and follow the reaction of your soulmate. If they try to continue the kiss and reach you, everything is ok.
You feel good. You should take care not only about your partner, but also about yourself. If you feel pleasant warm in your body and can't stop thinking about the kiss after the date is over, there is chemistry in the relationships.
You know how to manage your tongue. During this process some people prefer make intensive movements with their tongue while other partners try to make it gently. You should control your tongue according to the reaction of another person. Consider their preferences because the kiss should be pleasant for both parts of the process.
The principle of consent is the main rule of the modern time. Before kissing ask a girl if she allows to do that. Don't be afraid to look weak and insecure in her eyes. Most of girls prefer polite men who respect their opinion.
Thus, there are a lot of signs of the successful first date. You can examine all of them after your romantic meeting or just count on your intuition. After all, it never hurts just to ask a girl out once again. Even if she refuses you, you can easily find a new partner on a dating website.
Your First Date Was Successful If…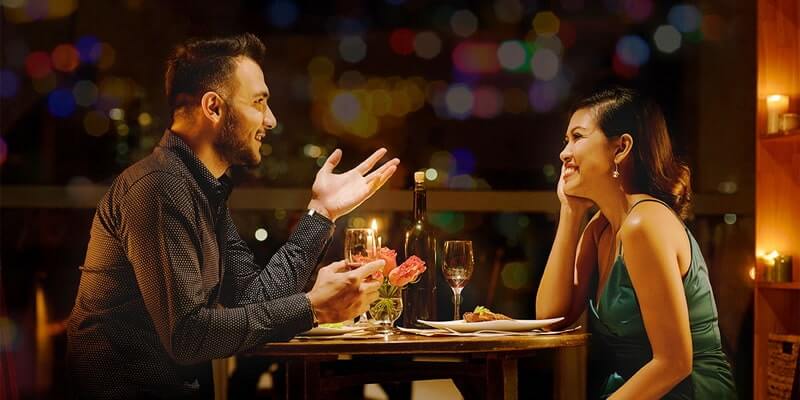 Your dating partner keeps on texting you for the next following days (which is evident);
You are invited to the celebrations with family and friends;
Your dating partner has nothing against getting in touch with you even if they are busy at home or at work at least for a couple of minutes.