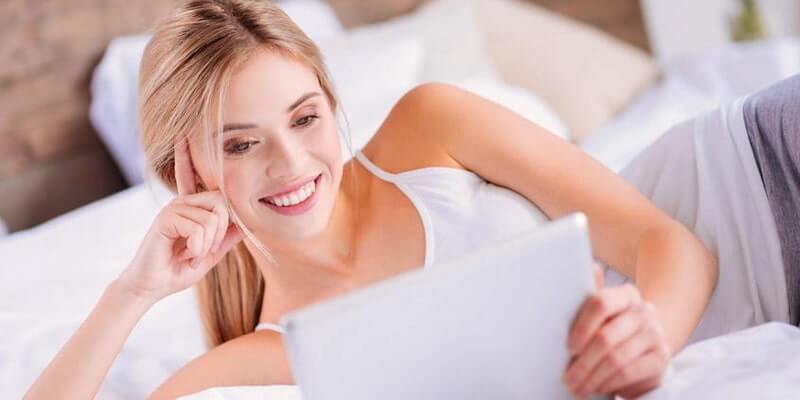 Do you want to talk to girls online? In this case you need to impress them! It's difficult to catch her attention online. Beautiful women usually get tens of messages every day. During chat you don't see her reaction. You can't understand her mood. But it's possible to chat with girls and to be popular. This way you even can start a relationship. All you need is to be caring and attentive. You need to know her desires and goals. You will have to keep the dialogue if she isn't really active. Some girls are shy and you should accept it.
How to start a conversation with a girl online for the first time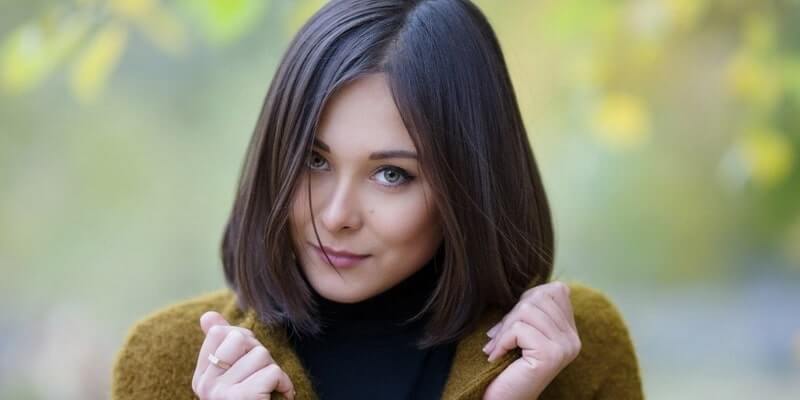 Talking to girls online can be difficult. For the first time you can be shy. It's hard to pick up the right topics for conversations. We will give you some tips that will help you to have an interesting dialogue.
Ask open-ended questions
These questions imply something more than just 'yes or no' answers. If you want to chat to girls online successfully, make them talk more. Ask something that will make her tell about her life. At the same time, don't ask anything personal.
There are some examples of these questions:
What kind of things do you like to do on weekends?
What interesting books did you read lately?
What's a perfect day for you?
Say hi and something else
If you date girls online, don't forget about simplicity. Greet her and say something nice. For example:
Hi! How is your day going?
I just wanted to say hello. You are very beautiful!
Hi! I hope your week is going fine!
Hi! Hope you are feeling well. Take care!
Show her you are interested in a conversation. At the same time, don't put too much pressure on her. Try something simple and nice.
Say a compliment
Talking to a girl online in a romantic way is impossible without compliments. Say something nice about her hair, skin or body. Don't be vulgar. Don't say anything sexual if you want serious relationships.
You can tell something about her wonderful temper and intelligence. Mention her photos. Say it's nice to communicate with her.
Don't be intrusive
When you chat girl online, you should write her every day. But don't be too pushy. Leave some personal space for her. Make a girl miss you. Don't write again if a girl doesn't answer for a few hours. Probably, she is busy or wants to rest a bit. Don't try to control her. No need to ask why she didn't answer and what she was doing.
How to talk to girls online in 2023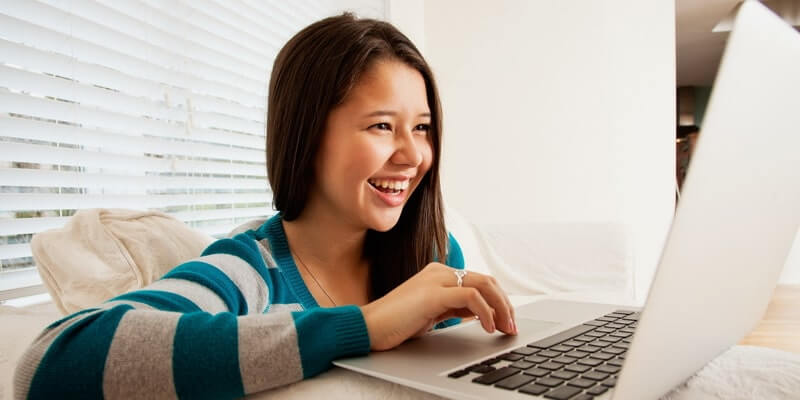 Chatting with girls can be tricky. Some of them are too shy. Some of them are too busy. Some girls don't want to chat, they prefer to meet in reality. Do you want to attract a lady? We will give you some tips about online communication.
Ask her something about herself
Girls love to talk about themselves. Make her talk more. There are some examples of these questions:
What would you like to do in the future?
Tell me something about your work?
Are you satisfied with your life now?
What's a perfect partner for you?
What's the biggest disappointment in your life?
When were you happy last time?
Do you have any pets?
What's your favorite meal?
Who is your favorite actor?
What's your favorite movie?
What kinds of movies do you like the most?
Do you have a lot of friends?
When you chat with a girl, don't be too curious and don't ask her personal questions. Don't insist if she doesn't want to answer.
Tell something about yourself
Don't be too restrained and secretive. Tell her what she wants to know. You can tell something about your work. Say something about your hobbies and interests. Say what things you like the most. Open up your goals. If you look for serious relationships, share it with her.
Do you not know what to say to girls? Tell something about your temper and mood. Don't reveal your bad sides and don't hide a lot. You should be frank and honest.
Don't lie about yourself. If you have live chat with girls, they will see you and your gestures. It's difficult to fool them in this case. Don't waste her time if your goals are different.
Ask her out when it's possible
Online chat with women can be very exciting. But it can't replace real meetings. Don't talk to girls for months. Online relationships don't have the future. Ask her out after several days of conversations.
Don't be shy! Ask about the date frankly. If a girl refuses you, don't be upset. Start looking for another woman.
Tell her something about what you do
It's difficult to talk with girls online if you don't know them. In this case you can describe your day. It's easy. Say what you did today. Remind something unusual or interesting. Tell about a funny case at your work. Tell something about your plans for the rest of the day. If a girl is interested in you, she will maintain the conversation and will ask something.
Talk about your pets
If you talk to girls, don't forget to mention animals. All women adore pets. Tell something funny about your dog or cat. If you have an exotic pet, it's even better. You can tell something about taking care of this animal. Send cute photos to her. Ask for a photo of her pet.
How to keep a conversation going with a girl online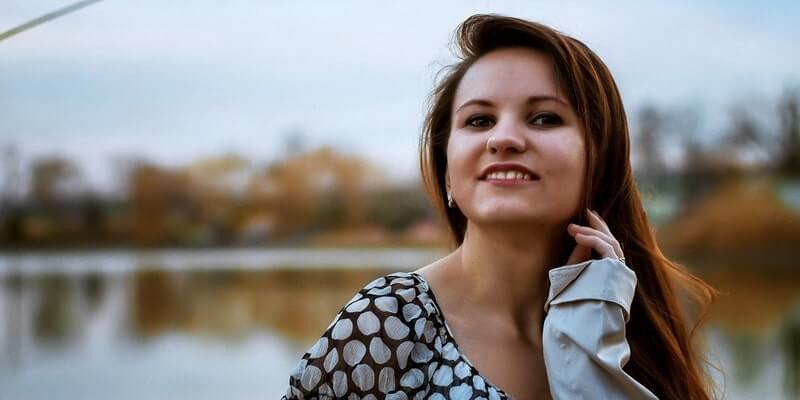 Do you like to talk to random girl online? It requires a lot of efforts. You should keep her interest all the time. There are some tips for men who like to have online relationships with women:
Be initiative and brave. Bear in mind that you will have to write first. Girls don't like to write first, they find it humiliating and intrusive. Write her every day if you want to catch her interest.
Make funny jokes. You can ask her some silly questions. What would you do in a zombie apocalypse? Would you prefer to drink a cup of mustard or a cup of oil? What kind of animal would you like to be? These questions are funny, so they will improve her mood for sure.
Send some funny memes. Choose something original and new to make her laugh.
Talk about something intimate. It works when you communicate for a long time. Ask her to tell about her childhood. Her first sexual experience. Her first relationships. Her desires. Don't be upset if she refuses to answer. Don't forget to share with her something personal as well. These dialogues will make you both closer.
Start a video chat. First, you can start with voice messages and regular calls. After that you can offer her a video chat. It will help her to see her appearance and to hear her voice. This is the best option for long-distance relationships. Don't be shy and do your best to make her feel comfortable.
Send her some gifts. They can be virtual or real. Show you are a romantic guy. Girls love gifts. You can send nice flowers or chocolate for your friend.
Wish her good morning and good night every day. It also makes people closer. This way a girl will feel cared.
Make plans about your future. If you can't meet right now, dream about it. Imagine your first date. Ask her what dress she would like to wear. Imagine what kinds of meal you would it in a restaurant.
Organize a date in Skype. Make some tasty good and grab a nice wine. Put on your best suit and tell her to dress nicely. Start an interesting conversation about everything. Your online date will be perfect!
Have virtual sex. This option is for couples in relationships (although, there aren't any limits). You can send explicit pictures to each other or have sex via video. Respect her boundaries and don't forget that sex is a mutual pleasure. Remember about safety. Don't send nudes where one can see your face or tattoos.

Chat with girls in 2023

Starting a conversation with a girl online can be nervous. You don't know about her preferences and mood. You can say something wrong. You can spook her off. That's why it's necessary to be careful and wise. At the same time, be yourself and don't pretend another person. How to start a dialogue? There are some tips about it.

Say a compliment

The best first thing to say to a girl online is a compliment. It should be exquisite and elegant. Say something nice about her gorgeous dress. Mention her shining eyes and healthy hairs. Don't ask anything about her body. It's impolite. Don't say sexual compliments.

Ask an unexpected question

For example:

Do you like tea or coffee more?
Would you like to be a president of a country?
What did you do yesterday at 6 a.m.?
What were you dreaming about in your childhood?
What would you do if it was the last day of our life?

Flirt a bit

You chat with girls for relationships. It means you should be romantic. Don't be afraid to be flirting and playful. You can ask the following questions:

What would you say if I invited you on a date?
Is it difficult to be so beautiful?
What such a wonderful girl is doing on this site?
What's your type of men?
Do you like adventures?
What's your perfect date?




Don't overdose with flirt. It should be nice and smooth.

Send her a little poem

No necessary to send a poem for several pages. But several lines with compliments and admirations will cause her interests for sure. You can use some innocent jokes in your poem. Don't copy something from the Internet. It should be yours only.

Some limits when talking to girls online

There are some limits that you should avoid. Otherwise you can lose all women you chat with.

Don't send her erotic pictures if she doesn't ask about it. It's vulgar and impolite. Don't be surprised if you are in a black list after that.
Don't talk about politics and religion. These are very sharp and controversial things. If you disagree, you can have a conflict.
Don't be too intrusive. No need to write her every several minutes. Keep some intrigue. Let her rest from you a bit if you feel you are bothering her.
Be careful with jokes. Some of them can be offensive for a sensitive girl. If you aren't confident about your sense of humor, better skip this subject.
Don't disappear for several days. Any reasonable girl will think you don't need her. In this case she will stop communication.
Don't ask her out after several messages. Nobody wants to meet with a completely unknown person. A woman needs to get to know you better.
Let her be a leader during the first dates. If she wants to go to the park, you should agree. Don't insist on your ideas if she doesn't like them.
Try to not find out a lot about her personal life. We all had relationships in our life. Some girls don't want to share about this experience, especially if it's negative.

The ways you can talk with girls online

There are several ways of chatting. The first and the easiest one is text messages. You can write her long answers and she can take a pause before answering. You both can think about your answers before sending it. In most cases there are no emotions in text messages. You can try this way at the beginning of your communication. Later it's better to offer a girl to switch to other ways of chat.

Voice messages is a wonderful way for shy and insecure people. You can hear her voice and intonations. This way it's more natural. At the same time, you can think about your answer in advance. Voice messages are good for international couples. It's one of the best ways to learn a foreign language.

Calls are another way to be in touch. They are more natural and spontaneous. They can be filled with emotions. You can hear her intonations and understand her mood. If your girlfriend doesn't know English very well, she can have a good practice.

The best way to talk with a girl is video chat. This way you will see her face and her manners, you can understand her feelings. If you use dating websites, it's a good way to avoid scammers. Also you can assess her appearance before the real date. We recommend you to talk with a girl via video before the first date. It will help you not to waste your time on people you don't like.

The best way to talk with a woman is a real date. Ask her out as soon as you understand you need her. Make up something original for your first date. Ask her a lot of question during you walk. It will help you to get to know a girl better. Did you like her? Don't disappear after the first date. This pickup method doesn't work with decent girls. Write something nice about the meeting. Offer her to repeat this experience and to meet one more time.

How to avoid failures?

Sometimes it's hard to win her heart. Some girls can be very picky and selected. Don't be upset if she doesn't write you. Does she ignore your messages? Better switch to another woman. There are a lot of friendly girls on our dating website. They all want to chat.

Chat with several girls at the same time. No need to think it's the lack of morale. You aren't in relationships, so you can flirt with a lot of women. Chatting actively, you can avoid failures and to get a special girl.

Try to be interesting. You should know a lot of curious and funny facts. Read and watch more. Read some news. Watch some documentaries to impress a girl. Develop your confidence. Go on the real dates to improve your eloquence. Be polite and nice. Don't say anything rude nor ambiguous.

Be romantic. Tell her nice things. Show her she is important for you. Don't forget about regular gifts. In this situation she will be yours after several weeks of chat. After that you can start talking about being a couple and serious relationships. It's possible even if you both are in long-distance relationships.