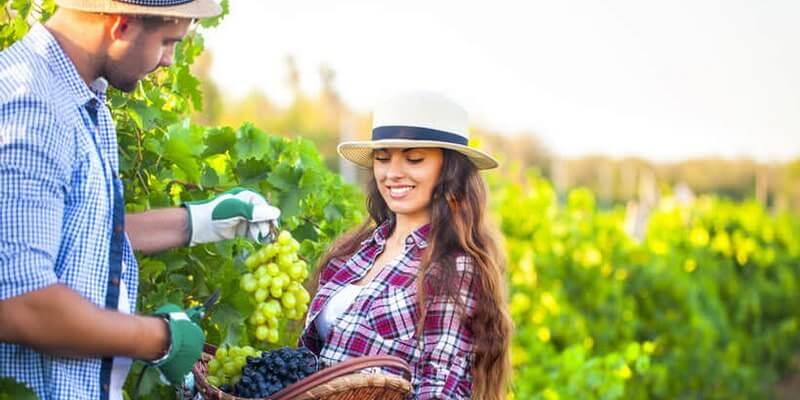 Anything depends on the lifestyle you would prefer. Living in a city brings a wide range of opportunities – developed infrastructure, convenient public transport, and an abundance of educational and entertaining places. Farmers dating online offer a peaceful, high-quality lifestyle among the natural treasures where you'll have to invest time in physical labor and experience the simplest entertainments.
It's hard for a regular citizen to move to the countryside and start dealing with the local farmers' constant routine. Nevertheless, you should understand that online farmer dating is evenly stressful for the farmers and their potential partners.
They are not very socialized because they are used to interacting only with the locals. It's hard for them to find a common language with people from the cities.
They can be unaware of numerous modern technologies, but not because they are dumb or lazy – they simply don't have to know anything about them being busy with their daily exhausting affairs.
They are looking for the most uncomplicated communication possible and are not interested in creating unnecessary emotional troubles. They are efficient in everyday life, which doesn't mean they are not interested in self-development. They are more interested in the upgrade of their farming equipment and the improvement of their business. Reading, fine arts, and emotional development are in the second place.
If you're looking for dating a farmer advice, the following info might come in handy.
Farmer Dating Useful Information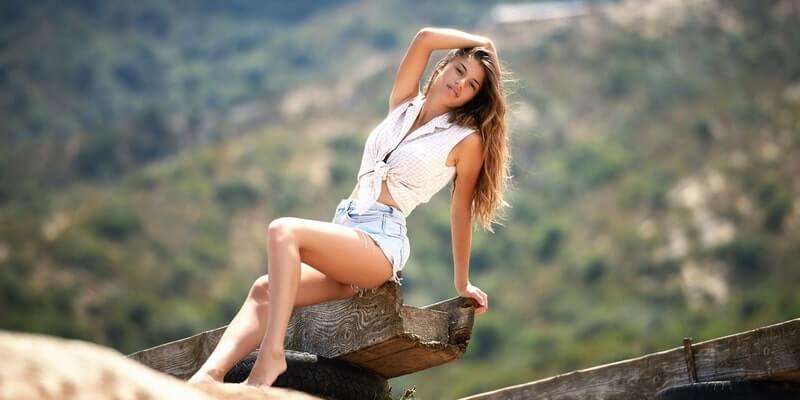 Dating for farmers in 2021 should stick to specific values. If you're interested in the simple rustic lifestyle, remember that:
Farming is an essential part of the farmer's life. The crops and farm animals cannot wait. The chose to deal with these everyday duties because it's profitable and mentally draining physical labor. Nevertheless, it's very fulfilling. You should be maximum open-minded with a farmer and learn not to waste his time and nerves on the senseless arguments and passive aggression.
Planning can be hard. Farming is usually a family affair, and you'll have to be patient, polite, and flexible while dealing with your potential partner's siblings, parents, grandparents, aunts, and uncles. Almost every farm owner lives on a rancho or a farm built and initially financed by older relatives. Farming is an important part of a family's history. Never try to initiate any structural changes in the life of a farmer – it will do no good to your relationship.
You'll have to be yourself. Even if it's hard, you'll have to find the strength to be the real you, demonstrate your charisma, and share what you think to make the locals believe you are real. You don't have to show off to gain trust. You shouldn't be pretentious and affected. Affectation is one of the most loathsome things for simple farmers. It doesn't mean that your potential partner and his family are simpletons. They simply concentrate on the basics with no drama.
Online dating for farmers will be suitable for the singles tired of the city's busy life, intending to move somewhere calm and friendly with no fuss and excessively massive traffic.
If you're a lonely farmer dealing with the farming business on your own, you can find women online. The smart online search will find potential partners suitable for your preferences, regardless of age, religion, education, or anything else.
Farmers Online Dating Can Be Very Beneficial
Farmer online dating is incredible for a single looking for a peaceful and psychologically satisfying relationship. It's mostly because the hereditary farmers are:
Traditional. Dating a farmer in his birthplace means sticking to the innumerable traditions and habits of the inhabitants of the household. Usually, farmers don't live alone even if they are single. The ask their relatives and closest friends for help. They often have their siblings' children on the farm, helping them deal with the cattle and the crops. It's highly essential to find common ground with the farm inhabitants because the farmers stick to the traditional family values with numerous family members living on the same territory.
Reasonable. They don't have the intention to develop drama out of nowhere. They avoid conflicts through short and straightforward conversations.
Prompt. Online dating farmers don't waste time on issues that can be resolved within seconds. They will never invest too much time in the discussions about the renovation works around the house or the change of wallpapers in the bedroom. They mostly accept the opinion of the partner when it comes to household troubles and chores.
Straightforward. They love to be blunt and never try to smooth the situation if it's critical. Some single men and women find the farmers too hard to communicate with because of their inability to gloss over the case. They don't hesitate to speak out and demonstrate real emotions. No, they are not rude. They are straightforward and sincere.
Sincere. If she does not love you, she will tell you about it. If she feels suspicious about your social interactions, she will tell you about it. It's not important whether a single countryman of your choice is a man or a woman. You will always know everything about his/her emotional state.
Farmers dating are not seriously different from permanent city residents. They are also interested in the development of the business and a prominent future of their kids. The only thing making them unique is their sincere ability to communicate with anyone. They are trusting, but they are blunt. They are loving, but they are devoted to daily hard work.
Single Farmers Dating Can Be Reserved
A single farmer dating can be too shy to lead a direct conversation with you. You shouldn't consider him/her a scammer just because he/she is not ready to pick up the phone for a live discussion. There's a list of things that can explain this initial weirdness in a conversation:
A farmer dating online lives within a limited social circle – he/she doesn't have access to the interactions with the representatives of the other professions and duties. His/her communication experience is limited to conversations with the locals, which is not enough to develop social skills.
Farmers dating are intelligent but unaware of how productive they can be. If you manage to get in a relationship with one of their representatives, you'll be surprised at the number of skills and knowledge he/she has unaware of how valuable they are. They simply don't have anyone in their social circle who could hint about their knowledge and abilities.
A farmer lives in a very tight environment dealing solely with the neighbors and the ones who purchase their goods. The life of a farmer is a business that should be treated with care and attention. If you choose to live with a farmer and build a stable family life, you'll have to participate in the business or at least find a remote freelancer occupation so that both of you could pay the bills and invest in the household needs.
The farmers are among the most popular candidates for dating and making a family. They are:
Responsible. They have too many things to care about in the household every day, and they know what it is to be responsible and ready to follow the schedule.
Trusting. These are simple people thinking there's no sense in wasting time on quarrels. It does not mean that you will be ignored if something goes wrong. It simply means that your conversation will be short and fulfilling. The people who have never interacted with the farmers might find this type of conversation too harsh.
Trustworthy.
Patient.
Faithful.
Main Rules for Dating a Farmer in 2021
Single dating farmers have peculiar characteristics. The main rules you should stick to sound like this:
Farmers dating online hate it when you prevent them from interacting with family and friends. They are looking for partners ready to accept the people surrounding them in their everyday life. They think that it's unreasonable to get rid of the time-tested friends and relatives in return of a dictator. You'll never manage to rule this relationship because you will always be a part of it.
Farmers dating don't demand too much emotional attention and romance. It's one of the greatest benefits for the people who don't find it important to express mutuality through regular phone calls and text messaging in the morning.
Farmers are very likable and hospitable people. They are wiser than you might think, and they understand that they are not as intellectually developed as the city residents. Nevertheless, they don't reject self-development, and their kids learn how to improve their parents' businesses.
| Farmers Dating PROs | Farmers Dating CONs |
| --- | --- |
| You'll live in a high-quality atmosphere with tons of fresh air, pure water, and beautiful landscapes. | You'll have to participate in the work on the farm. Dealing with gardening and farm animals can be challenging. |
| You'll be surrounded by helpful and meaningful people ready to share advice and consult you on farming issues. | You'll have to learn to be straightforward in the dialogues avoiding affectation from your side. Simple people hate it. |
| You'll always be aided by the family. No one will be left behind as soon as it's a family business. | You'll have to cut corners while communicating with your partner's family members. Avoiding conflicts might be hard at times. |
| You'll always have access to natural foods and products, fresh meat, and clean water. | You'll miss the infrastructure of a big city with its shops, restaurants, cafes, and entertainment centers. Getting to one of the local drugstores can also be troublesome. |
Farmers & Online Dating in 2021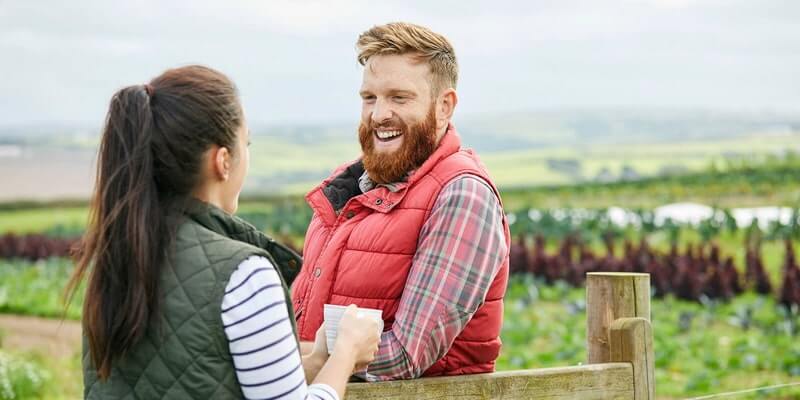 Farmers are inhabitants of the rural areas where the distance between the households is huge. It means that they do not communicate about superficial things, starting with the most important ones for someone who needs a partner:
Common interests;
Religious preferences;
Personal and professional plans;
Attitude to kids;
Preferences concerning sports and eating habits;
Friends and communication preferences.
Speed dating is flawless for those who still feel shy about getting to the first date and choosing topics for conversation. You merely get in touch for a couple of minutes and learn the basic characteristics of each other through straightforward questions, and there's no need to worry whether you'll spoil the date or not because you merely can switch to the next potential partner.