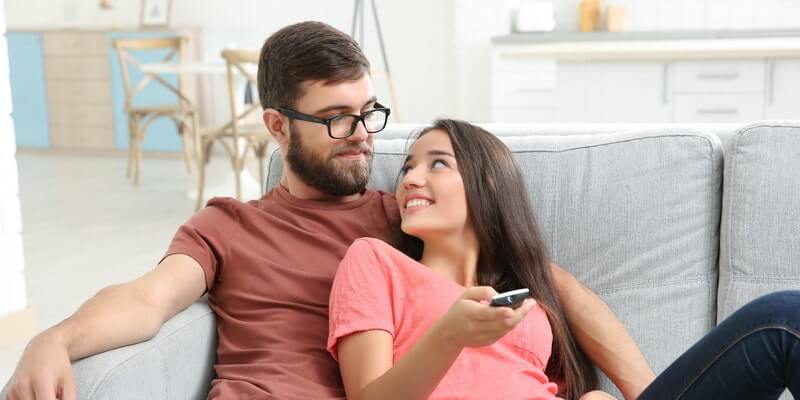 Video games are a prominent type of online entertainments. Some people can spend at the computer for hours achieving new levels and spending money for new games. It affects a romantic relationship whether you want it or not. Dating a gamer can be hard for needy people who want a constant attention. Sometimes they will feel lonely and rejected in this relationship.
We will give you some tips about dating a gamer that will help you to build a healthy relationship with a person who has this serious hobby.
What does a gamer relationship look like?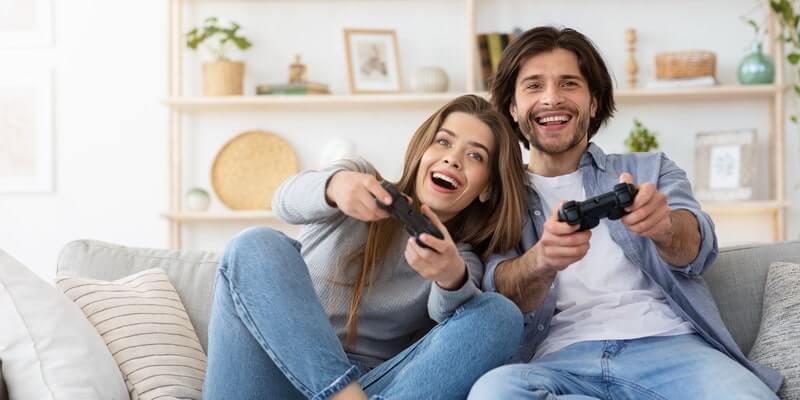 A gamer relationship is quite peculiar, especially if your partner is obsessed with his virtual world. There's nothing bad if a guy spends for a couple of hours at the computer after work. Then you can find a compromise and spend time together on weekends or before going to bed. But what if games is his single world?
A gamer relationship implies a lot of patience. You will have to take your partner the way he is and at the same time you need to be attentive enough to notice the addiction in time.
When you are in a gamer relationship, you can feel lonely sometimes, but if you love each other, you overcome it. Bear in mind that you should be familiar with a gaming world, otherwise it will be difficult to understand your partner.
At the same time, a gamer relationship can be fun. If you are into gaming too, you both can play the games together, share some skills with each other and explore wonderful worlds. Even if you don't understand it, a gamer partner will explain you everything with pleasure, since he breathes with this hobby and can talk about it for hours.
Pros and cons of dating a gamer guy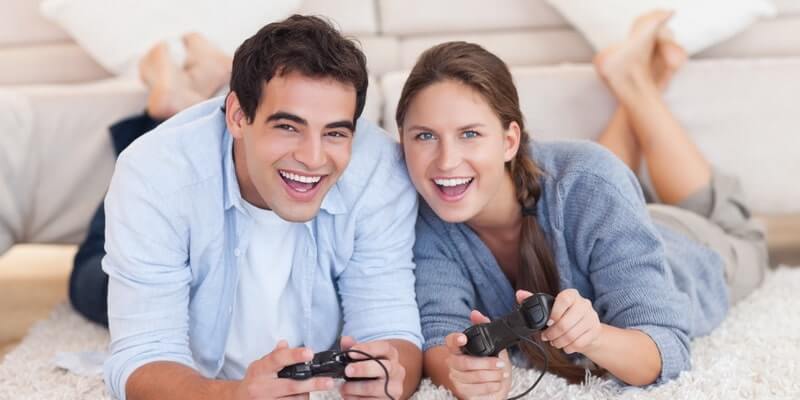 Dating a gamer is quite controversial. One day you will be grateful that you have this person and another day you will want to kill him. But if you are understanding and patient enough, you have all chances to date a gamer and to be happy. Let's talk about advantages and drawbacks.
Pros of a gamer relationship
He is very dedicated. It's not about games only, it's also about a relationship. Dating a gamer means love and care. Even if he is addicted to games, he is really afraid to lose you.
He is smart and interesting. Dating gamers has a lot of fun. These people know a lot of things, not only about video games. They are ready to share with you their knowledge. When you date a gamer, you can realize you can talk about everything, he can maintain any subject.
Sometimes they are successful. Dating a gamer guy doesn't mean you will die in poverty. Some people make video games their work, so they build an astonishing career. You just have to support and inspire your loved one.
You will have enough time for yourself. Dating a gamer is perfect for independent women who value themselves and have a lot of hobbies. Your partner isn't intrusive, so you can spend some days separately.
You can share his hobby. A gamer relationship often means you play together. It's perfect when a couple has the common interests. You will never be bored with each other this way.
You don't have to be jealous when dating a gamer. It's clear he is in love with you and with games only. Often these people don't have a lot of friends, mostly they chat online.
They don't mind long-distance relationships. Dating gamers on the Internet is possible. These men are used to chat with people around the world, so you can meet your soulmate from another city or country.
They are responsible and collected. Video games learn how to be attentive and how to make decisions. You can count on your partner any moment, he won't let you down.
Cons of a relationship with a gamer
However, everything isn't that bright. Dating a gamer guy can bring you a lot of disappointment. There are some cons you should know about when dating a gamer boyfriend:
Sometimes you aren't priority for him. Don't be surprised if your loved one chooses gaming from time to time instead of spending time with you. His hobby is very important for him.
When you date a gamer, you will face a gaming slang that is hard to understand if you aren't into games. Sometimes this slang is quite irritating.
Some gamers are nervous and even aggressive. Bear in mind that lots of video games contain violence.
His computer is saint. If you date a gamer, don't you dare to touch his things and his computer unless you want to piss him off. This place is only for him.
His computer and armchair are really expensive. He will spend a lot of money for his hobby, so you can feel neglected a bit. Dating a gamer means you will have to plan your family budget very thoroughly.
He definitely has health problems. His back and eyes said goodbye to him, but at the same time he isn't going to fix and by going to doctors.
Dating a gamer guy is hard for active girls. If you are used to go to gym and to hike, you will have to do it alone or with your friends. Your partner prefers to spend his day at the computer.
You can face the addiction. Some gamers aren't able to stop. Then dating a gamer boyfriend will be almost impossible since he will spend all the time playing. Some people quit their job and stop communicating with their relatives and friends. Of course, you can go to the doctor with him and put a lot of efforts trying to change your partner, but sometimes it's better to let your loved one go and to start a new life with a new man.
Their libido isn't really high. Sex isn't priority for these people, so sometimes you can feel undesirable.
Some gamers aren't interested in a serious relationship. If dating a gamer is something casual for you, it's ok, otherwise this communication will bring a lot of pain to you.
Dating a gamer boyfriend: the best tips for women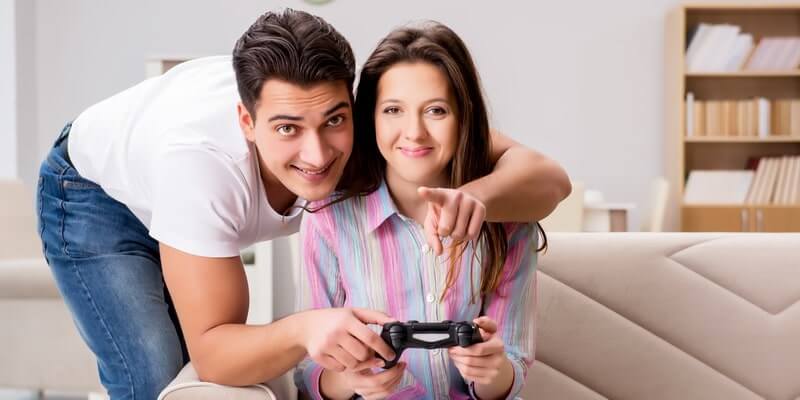 How to date a gamer if you want a serious relationship? It's doable if you both are ready to put efforts to save your love and to work on the relationships. We will give you some useful recommendations.
Mutual respect is important
Video games are everything for your partner, so don't you dare to mock it. You will have to put up with this hobby and to learn how to find something wonderful in it. At the same time, don't allow him to laugh at your activities even if they are the way too different.
Try to understand his world
Dating a gamer boyfriend is a unique thing where you will have to face a lot of new things. Try to understand them. Feel free to ask your partner to talk about it. Even if you don't join his hobby, you can be more understanding and tolerant. Avoid stereotypes. Video games aren't only about violence and fights.
Find some shared interests
Dating a gamer doesn't mean you will have to spend all the time separately. Some activities can be shared. You can persuade your partner to go for a walk with your or to watch an interesting movie together. It won't take a lot of time, but you will feel much happier after that.
Take care about yourself
When you are dating a gamer, you can notice he pays attention to the monitor only. Buy a new dress or change your style. Follow a diet or go to gym to be stronger and healthier. If he loves you, he will notice these changes.
Don't be too pushy
We all need some time to stay alone. If you write him first every time or call him every minute, he might think you are super-needy and stop this communication. Make him miss you. You can disappear for several days and check his reaction. If he loves you, he will definitely will be more active. And if not, then why do you need this man?
Add some romance
How to date a gamer? Over time relationships are getting more stable and routine. Then you can spice them up! Organize a romantic dinner or go to the cinema together. Offer him to try something new in bed, most of gamers are quite progressive and tolerant. Don't forget about nice gifts (he will be happy to get a high-quality mouse for video games).
Talk about your desires
An open discussion is a key for a happy relationship. How to deal with a gamer boyfriend? Don't be shy to discuss any problems frankly and to ask about his opinion. This way he will understand you value this relationship. If you don't like something, don't hide it. Your task is to find a compromise. Stay calm during these discussions and don't let them turn into a quarrel. Don't raise your voice and try to understand your loved one.
It's ok to want some love and care. If you need it, say it because gamers don't understand hints very well.
Find the signs of addiction
When you dating a gamer, you can notice he plays more and more over time. Sometimes it affects work. He feels tired all the time and he doesn't sleep well. Your sex life turns into a disaster. You almost don't communicate with each other. If you find these signs, you will have to make a decision: to stay with the partner and to fight for your happiness or to leave him and to try to find another man without these problems.
Be supportive
Dating a gamer means being in a relationship with a regular person who also needs help, support and soothing sometimes. Be around him and let him know you will always listen to him and to help if necessary. Don't mock his problems and take him seriously. You can count on the same attitude.
Share home duties
You don't have to do everything yourself when dating a gamer. Distract him from his computer and offer your partner to wash dishes or to iron his clothes. Be polite but firm. If you start living together, communicate your needs and slit the duties. It will help to avoid unnecessary conflicts.
Agree about the time you will spend together
Sometimes it's hard to find time for common activities, especially if you work a lot. But you always can find several hours on weekends to go somewhere or to lie in bed cuddling and hugging. Appreciate these moments.
Thus, dating a gamer is peculiar but not something impossible. You can find a person who will love and care about you. On our website you will find a lot of men who are ready for a serious relationship and marriage. All you need is to create a profile and add the best photos of yourself. Write about your interests and goals and start looking for guys who are ready for the communication. Most of gamers are quite sociable and friendly, so they will write you first. At the same time, there are a lot of timid and shy gamers, so feel free to ask them out to meet in reality.