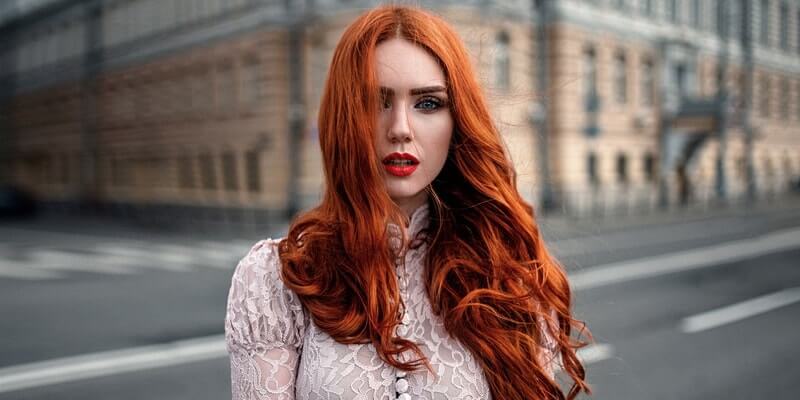 Girls with red hair always stand out of the crowd. Their appearance is very peculiar: they are usually pale with light blue or green eyes and cute freckles. Gingers have some common characteristics. There's a list of statistically proved facts about their personalities that may be helpful if you're about to date one of them. We're ready to share them today.
Hot Red Hair Girls: 10 Facts
They say gingers don't have souls. Of course, it sounds like an old-fashioned misconception. Nevertheless, this peculiar hair color has acquired a certain reputation throughout the years. The first fact to consider is that it's the rarest color in the world – no more than 2% of people have this gene. Bright copper, red-orange, burgundy, strawberry blond – there's a number of shades of red in the world. The scientists say that the owners of these hair colors have genetically explained talents and powers.
Red Haired Girl & Her Superpowers
Let's call them unicorns in the world of ordinary people. The point is that these human beings are born with an unusual mutation. One of their genes is altered by nature, which gives them this soft, porcelain skin, cute freckles, and fierce red locks.
Inborn Supply of Vitamin D
They have low risks of diabetes and arthritis development thanks to an inborn ability to create vitamin D. The body does it on its own and with greater speed and power in comparison to other people. The only thing your ginger lady has to do is to go outside and catch the sunlight!
Higher Tolerance for Pain
This was proved by one of the independent studies of McGill University held in 2003. In comparison to brunettes, redheads are able to withstand about 20 percent more pain. However, quite a lot of surgeons agree that sedating them before the operation is quite hard. One shot of anesthetic won't be enough for them – only two or three will make them sedated.
Sensitivity to Temperatures
They always know when it's getting colder or warmer. Their corrupted gene makes them literally predict the temperature changes earlier than other people notice this. This is a real gift and a burden at a time. Don't forget to fetch a jumper or a soft and warm blanket in case if you're planning an open-air date with a redhead. If she says she feels cold, she literally means that she needs something warm to put on.
They Rarely Have Their Hair Dyed
The ginger molecules are almost impossible to be dominated. They are larger and more intensive than the molecules of any other colors. When gingers dye their hair, they don't enjoy the freshness and richness of the newly acquired color for too long – ginger molecules crowd them out! That's the reason why most celebrities of this hair color mostly give up on the tries to change the hairstyle – they enjoy their naturalness and proudly demonstrate it.
Their Skin Is Not Always White
Yes, most of them have porcelain looking skin. Nevertheless, there are Hawaiian inhabitants with dark-tanned skin and fiery locks. They are called "ehu", which means that they originate from the gods of fire.
More Cheerful
It all started at the end of the 18th century. Actors at the theatres and performers at the circuses often used red wigs to make their characters stand out of the crowd as the funniest or the most charming ones. At that period of time, people have already noticed the tendency of gingers to amuse people around and to attract everyone's attention.
Popular in Advertising
There's no actual explanation for this statistical fact, but quite a lot of advertising in the media is carried out with the participation of redheads. Upstream Analysis made research in 2014 and proved that about a third of all advertisements and TV commercials were made with gingers participating.
Red Hair & Blue Eyes Girl: Stereotypes & Truths
A girl with red hair can be a really unpredicted gift born in a family of blondes or brunettes. The reason is a structurally modified gene that alters the natural color of skin and locks rewarding her with unusual powers:
Better health;
Pain tolerance;
Cheerfulness;
Inexplicable charm.
Most men are in constant search of ladies like this due to an inevitable attraction. It's natural for a person to work towards something that your body does not have. Gingers have a great stock of pheomelanin in their bodies. This mutation is caused accidentally. Less than a half of human beings on our planet have this recessive ginger gene. When both partners in the couple have it, it gets activated and results in a mutation.
Evil Concept
It's not a secret, that every red hair & green eyes girl was considered evil in medieval times. People like these were rarely born, they were physically stronger than the others were, and they had unbelievable charm without any effort. Females looking like this unintentionally attracted men of all ages. It was long ago and the society led by religious and historical dogmas, as well as by their own ignorance did their best to get rid of the phenomenon they couldn't find an explanation for. This was a starting point of witch trials, public executions, and deaths by fire. We're lucky to live in the modern world of today, aren't we?
Ferocious Temper
It is supposed that this ginger gene mutation was initially brought to Europe together with the Vikings. No wonder that your red-haired girl has a fierce and unpredictable character – the Vikings had never been polite and gentle. Her predecessors were violent warriors without sympathy or compassion.
More about Their Origin
Asia
Some historians say that the Vikings were not the first ones to acquire this gene. This started somewhere in Asia for about three or four thousand years ago. When the inhabitants of these regions changed their habitual location from the southern to the northern one, their ability to generate their own vitamin D helped them to survive in the colder and gloomier territories.
Scythians
These were tribes from ancient Greece. They were famous for their intellectual abilities. They developed their forms of art, they were gifted writers and actors, but they were weak in politics and social arrangement. They had never been able to create a solid society. As a result, the Persians dominated over them and made them their slaves. Greek artworks of ancient times portray them with fierce red hair.
Celts
Celts originated from the Vikings. They turned out to be more organized and sensible. They were a perfect combination of intelligence and violent temper. They were keen on and skillful at martial arts and they had long-lasting conflicts with the Roman Empire.
Your Girl with Red Hair Has Unique Origin
Judging by the facts mentioned above and spread all over the Net, if you date a girl like this, you should be prepared for the following:
Her Viking heritage will show off from time to time;
Her temper cannot be altered or controlled;
You'll be impressed by her ability to speak out and stand out of the crowd;
She has a ton of surprises to reveal.
She's a wild flame belonging to 2% of people on the whole planet. Her peculiarities are created by nature to be held by strong men able to stand their ground and hold her hand in times of hardships. Forget about the prejudice and enjoy this gift if you already have it by your side. Are you still looking for a fierce redhead? Well, it's high time to get into one of our catalogs or contact us directly for sensible advice.
Appearance, Health & More
As one of the rarest human species, these females have special features that cannot be distinguished and explained at first. Now let's have a talk about well-established patterns and exceptions of ginger head ladies.
Looks
A red hair-blue eyes girl is the greatest rarity. It is statistically proved that natural ginger head girls have dark brown, hazel, greenish, or green eyes. A red hair-green eyes girl is a more common look for gingers.
No, they don't earn a freckle for each of the stolen souls. Nevertheless, their faces without freckles look like skies without stars. Gingers harmonize with their freckles growing in amount every spring.
When they get older, their hair doesn't turn grey. It becomes slightly rosy. Yeah, that's where the real magic comes!
Oddities
When two owners of recessive ginger genes give birth to a child, she's very likely to be born left-handed.
Hot red-hair girls are more obsessed with sex and sexuality matters.
They can be born in all ethnicities and it doesn't depend on the geographical location or climatic conditions.
Health
Their health is generally strong. However, they may suffer from melanoma. Unfortunately, women with red hair predisposed to develop skin cancer.
They have to use SPF protectors regularly to prevent sunburns and unwanted rashes. Their skin is very thin and sensitive. It cannot work as a protective shield from the environment and they have to create it on their own.
What a Red Haired Girl Wants While Dating
It doesn't matter whether you're looking for a Russian redhead or for the one from the northern regions of Europe – the owners of the natural inborn colors have their particularities that can be regarded either as advantages or disadvantages. This is explained by their origin and the fierce and smart people who engendered them a long time ago. They all have something in common and you'll have to get adjusted to this situation.
Best Things to Say
Your freckles are so cute!
You're the most attractive redhead I've met.
I know that redheads are considered smart.
You are perfection.
You remind me of … (any redhead celebrity, because all of them are gorgeous).
Never Say the Following
Is your color natural?
I've heard that females of your hair color are becoming extinct…
Have you ever thought about dyeing your locks?
Do you have Irish roots?
May I call you ginger?
The main thing here is to be polite. You may be dating a Russian redhead or a fiery lady from Ireland, but the general rule is always the same – never treat them as rare species. They are individuals having some biological and historical characteristics in common. Every person is unique in his or her own way. Make sure you don't hurt her feelings trying to get deeper in her historical past. Quite a lot of these women hate their appearance without realizing how special they are. Make them understand they are pleasantly uncommon and NEVER try to alter anything in their character or lifestyle.
Be Prepared for the Date
Almost all redheads smell like the sun. They are charming and have a vibrant flare, an impressive charm, an unforgettable tenderness. All of this oddly combines with their ability to be stubborn and wild at a time. If you don't want to storm off her wild nature, you should follow the rules.
RULE #1 Remember that they are not promiscuous
Yes, they are considered perfect lovers, goddesses of sex and they do have a passionate nature. Nevertheless, being desired has nothing to do with getting laid after every date. They are not promiscuous. On the contrary, their moral principles are definitely higher in comparison to numbers of blonde and brunette girls.
RULE #2 Be prepared to deal with her feisty nature
You won't be able to do anything against it. Her locks are the color of fire alarm and she always has everyone's eyes fixed on her wherever she goes. She has to be confident and self-contained. Be prepared for partial domination in your relationship.
RULE #3 Never say you date her because of her looks
Well, this rule is common for all dates with any women. Don't put any emphasis on her looks and never tell her you've been looking for a girl like this for a long period of time. Everyone wants to be loved, but no one wants to be a fetish for a person met for the first time.
RULE #4 She's passionate but fragile
If you're finally getting in the bedroom, remember, that a red-haired girl has very sensitive skin and muscles. She is easily bruised and her skin quickly gets covered with unpleasant marks. Be careful in the bedroom.
RULE #5 Don't make fun of her insignificant natural glitches
This happens because of her inborn gene mutation. Don't be surprised if she suffers from unusual allergic reactions or is intolerant to the most habitual things. She can be left-handed, she can look incredibly different without makeup (not ugly, but actually different), the smell of her skin might feel pleasant to you because of a great amount of vitamin D produced in her body and regular everyday lotions she uses to protect her skin from excessive sunlight.
Bottom Line
Date a redhead if you have a chance. Don't miss it, because you'll get a ton of impressive PROs:
You'll get yourself a faithful and mentally strong partner able to withstand the hardships and deal with troubles on her own;
You'll become the owner of a real precious gem – a perfect mutant with drop-dead gorgeous appearance and impressive temper;
You'll be in a relationship with a passionate and devoted lover;
You'll never be cheated on because redheads are not used to doing nasty things behind your back – in case if she doesn't like you, she will show it to you without concealing anything;
You'll get a healthy mother for your kids – her mutant genes help her stay at low risks of getting numerous diseases.
Putting it shortly, you are the luckiest person on earth if you manage to find a devoted woman of this rare appearance. You need to know that they are really going to be extinct. The amount of redheads is getting lower every decade. If you build a meaningful family relationship with one of these ladies, you'll get a chance to partially revive and sustain this mutation. Your children will be smart and healthy. They will definitely stand out of the crowd!